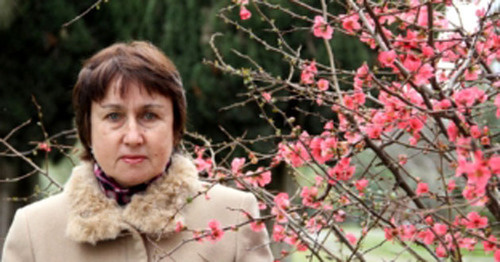 21 December 2016, 22:58
Elena Zavodskaya
Elena Zavodskaya, an Abkhazian journalist, has covered the legal proceedings at courts of the Russian Gulgaz Mamedova, from whom her husband's relatives had taken away took a child, and of Liana Todua, who died because of doctors' incompetence.
Ms Zavodskaya was nominated for the "Hero of the Caucasus-2015" contest of the "Caucasian Knot" for making public the facts, which are usually hushed up.
Activities in 2015
In summer of 2015, Elena Zavodskaya, a journalist of the project "Echo of the Caucasus", told about the case of the Russian Gulgaz Mamedova, relatives of whose husband, a citizen of Abkhazia, had taken away her 4.5-month baby. They had kept the baby for five months, not allowing the mother to see her child. Ms Mamedova turned for help to Zavodskaya; and the journalist was covering the consideration of the case at courts up to the moment, when the baby was returned to the mother.
In October 2015, Elena Zavodskaya wrote about the trial of doctors from the Sukhumi hospital for infectious diseases, where a 26-year old Liana Todua perished. Her mother tried to prove that her daughter's death was caused by the callousness and incompetence of the doctors, who later tried to present the dead girl in social networks as a drug addict. The criminal case was initiated against three doctors, namely, Natella Papisimedova, Astanda Vouba and Nina Dashaeva.
Biography
In 1984, Elena Zavodskaya graduated from the Biology and Soil Department of the RostovStateUniversity.
In 1976-1980, she worked as a nurse at the Republic's Hospital of the Ministry of Public Health of the Abkhaz ASSR.
In 1980-1984, Elena continued working as a laboratory technician at the Institute of Experimental Pathology and Therapy.
In 1984-1989, Ms Zavodskaya worked as a correspondent of the independent city newspaper "Sukhumi Vestnik".
In 1995-1997, she was editor-in-chief of the "Young Abkhazia" newspaper of the State Committee for Youth Affairs.
Since 2008, she was a staff correspondent of the independent newspaper "Echo of Abkhazia".
From February 2012 to May 2013, Elena Zavodskaya was a correspondent of the state information agency "Apsnypress".
Since May 2013 up to the present moment, Ms Zavodskaya is a journalist on the "Radio Liberty" in the project "Echo of the Caucasus".
In 1991-2001, Elena Zavodskaya was a volunteer of the Abkhazian non-government organization (NGO) "Human Rights Fund and Civil Society".
In September 2002-September 2003, she was a coordinator of the project "Right of Child to Personal Opinion" in Georgia and Armenia.