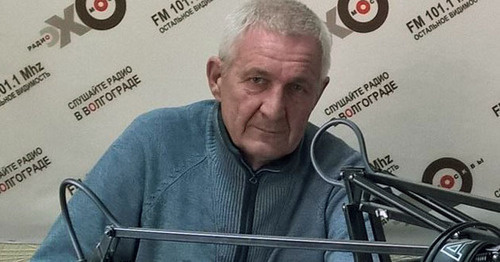 11 December 2016, 04:23
Valery Vladimirovich Kotelnikov
In 2015, Valery Kotelnikov from Volgograd was addressing the problems of illegal city development and preservation of architectural monuments.
Valery Kotelnikov was nominated for the "Hero of the Caucasus-2015" contest for his disclosing the information that is usually kept in silence.
Activities in 2015
In 2015, Mr Kotelnikov raised the topic of the need of inventory of Volgograd architectural monuments, which formed the basis for the prosecutors' check of most objects of cultural heritage of the Voroshilovsky District.
He initiated a ban on reconstruction of two houses on Lenin   Avenue, which are a part of the city development ensemble "Prospect Lenina".
In March 2016, Valery Kotelnikov sent an appeal to the Prosecutor of the Volgograd Region with a demand to stop the demolition of the building of the Gumrak railway station.
Biography
Valery Kotelnikov was born on July 8, 1960, in the city of Tomsk.
He is a professional builder; he is the director of the "Ariada" Building Company.
Mr Kotelnikov ran for legislative bodies of power at regional and federal elections on the lists of the "Yabloko" Party.
On September 29-30, 2016, Valery Kotelnikov took part in the 15th All-Russian
Congress of State Bodies in charge for preserving historical and cultural monuments, held in the city of Ivanovo, where he criticized the poor execution by regions of the presidential order to create public councils for cultural heritage.