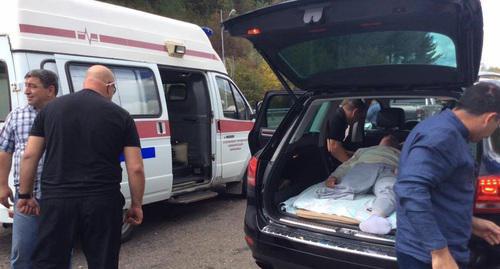 05 October 2017, 21:59
Power agents prevent Ruslan Gvashev appearance at rally in Krasnodar
Ruslan Gvashev, detained on his way to Krasnodar, was released by the police only after the rally in his support was over. Gvashev said that he was surprised by the massive nature of the spontaneous action.
The "Caucasian Knot" has reported that today Gvashev stopped his hunger strike at the request of the above rally in his support.
"I've achieved what I wanted – a unification of my people," Mr Gvashev has emphasized.
Murat Bekukh, a participant of the rally, has stated that he had come to the courthouse to demand from the authorities to stop persecuting Gvashev. He has noted that the action was spontaneous.
For Gvashev, his hunger strike was a matter of honour, said Naima Neflyasheva, a Senior Researcher at the Centre for Civilization and Regional Studies of the Africa Institute the Russian Academy of Sciences, who is running her blog, entitled "Northern Caucasus Through the Centuries", on the "Caucasian Knot".
Full text of the article is available on the Russian page of 24/7 Internet agency 'Caucasian Knot'.
Author: Anna Gritsevich Source: CK correspondent