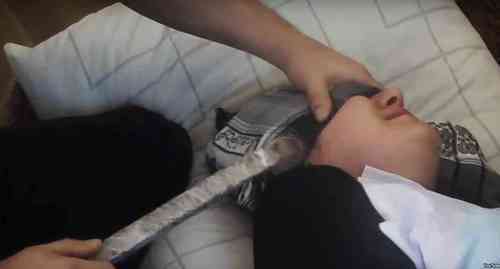 14 January 2019, 22:43
Killed for orientation – the fate of queer women in Chechnya
The history of kidnappings, torture and murders of gays in Chechnya has touched on not only men, many of whom left Russia or went, well in advance, to study and work in other regions. The fate of a woman of non-traditional sexual orientation is entirely in the hands of her relatives; and they are no less cruel than law enforcers. The "Caucasian Knot" tells about what queer women face in Chechnya 1
In 2018, secret prisons got replenished with women
Since January 2018, human rights defenders began receiving information that lesbians and transgender women were detained in secret prisons, where they were sexually abused.
By April, 12 women turned to the "Russian LGBT Network" and reported about torture by relatives 2.
Later, detailed stories told by victims themselves, who managed to leave Chechnya, appeared – three girls told reporters what they had to go through at home and how their relatives tried to force the fugitives back home.
On December 10, in Moscow, a report 3 was presented, prepared with the support of the Heinrich Boll Fund's Project "Queer Women of Northern Caucasus". It contained the outcomes of a survey of 16 women from the Chechen Republic aged from 20 to 49, who classify themselves as different sexual minorities.
Eight of the respondents told that some of their girlfriends, relatives or neighbours were killed by their males-relatives for their behaviour "disgraceful for the family."
The girls also told the details of how home lynching is executed over those suspected of non-traditional sexual orientation.
"All the men of the family get together – all the older males of the family (grandfathers, uncles, fathers, older brothers) gather and discuss what punishment to choose for the woman for her wrong behaviour. If they find out that she is a lesbian, then, there are most likely two options waiting for her: to kill or to force into marriage" 4.
All the women told about systematic and repetitive physical and psychological abuse both in the parental family, and in the marriage.
In case of physical violence in the family, queer women prefer not to seek medical help because of a ban from relatives or the fear of attracting attention to themselves. Psychological help is replaced by religious practices of "jinn expulsion", while legal protection cannot be ensured due to law enforcers' attitude.
How female morality was implanted in Chechnya
Back in 2008, in his interview with the "Komsomolskaya Pravda", the head of Chechnya, Ramzan Kadyrov, reasoned as follows:
"A woman should know her place [...] A woman should give love to us [...] A woman should be a property, while the man – the owner [...] It happens like this: a brother killed a sister, a husband – a wife [...] As a president, I cannot allow them to kill. Thus, let them (women) not wear shorts."
The 2014 report of the "Civil Assistance" Committee and the Human Rights Centre (HRC) "Memorial" noted that in recent years, men had been executing their female relatives even for very insignificant deviations from the "norms of behaviour of a Chechen girl."
In July 2017, the report on persecutions of LGBTs in Northern Caucasus cited three stories of persecution of queer women and noted that information about extrajudicial executions of queer women from Chechnya, Ingushetia and Dagestan had been known to human rights defenders well before.
In particular, the authors of the report told the story of a female resident of Chechnya, who several times tried to leave the republic; however, her relatives returned her every time and even placed her into a mental clinic for three months.
This article was originally published on the Russian page of 24/7 Internet agency 'Caucasian Knot' on December 31, 2018 at 04:45 pm MSK. To access the full text of the article, click here.
Notes
The English term "queer" is used to mean any identity that does not conform to the traditional model of sexual behaviour. The term is often criticized by members of the LGBT community, as well as by other people, who associate the word with its colloquial use as an insult, or who want to separate themselves from queer radicalism.
Russian LGBT Network: 114 people left Chechnya after the start of the campaign against gays in the republic // "Novaya Gazeta", April 3, 2018.
The text is available at https://www.outrightinternational.org/sites/default/files/Research-by-theQWNC-Group.pdf
Violence over lesbian, bisexual and transgender women in Northern Caucasus of the Russian Federation https://www.outrightinternational.org/sites/default/files/Research-by-theQWNC-Group.pdf, p. 24