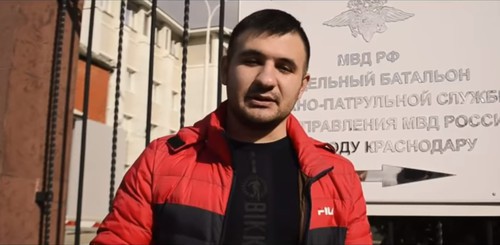 26 January 2020, 11:44
Blogger Gaspar Avakyan pleads not guilty in court
During an interrogation, Rostov blogger Gaspar Avakyan, accused of extortion of money, pleaded not guilty to any episode.
Gaspar Avakyan, a journalist of the agency "Rosderzhava", was arrested in a case on extortion of money from policemen. After his detention, the journalist went on hunger strike, and his friends and relatives held pickets with the demand to stop criminal proceedings against the activist.
Svetlana Avakyan, a wife of the defendant, told the "Caucasian Knot" correspondent about her husband's public activities before his arrest. "My husband has been working for the 'Rosderzhava' since November 2018. He also provided assistance in the interpretation of the traffic regulations ... After the arrest of my husband, our family faced a difficult financial situation, but we are doing our best. I work, and followers of the Gaspar's YouTube channel help me," the woman said.
This article was originally published on the Russian page of 24/7 Internet agency 'Caucasian Knot' on January 25, 2020 at 05:45 pm MSK. To access the full text of the article, click here.
Author: Valery Lyugaev Source: CK correspondent