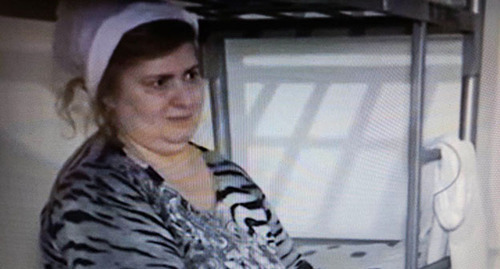 31 January 2022, 23:28
Criminal case instituted against Zarema Musaeva
ДАННОЕ СООБЩЕНИЕ (МАТЕРИАЛ) СОЗДАНО И (ИЛИ) РАСПРОСТРАНЕНО ИНОСТРАННЫМ СРЕДСТВОМ МАССОВОЙ ИНФОРМАЦИИ, ВЫПОЛНЯЮЩИМ ФУНКЦИИ ИНОСТРАННОГО АГЕНТА, И (ИЛИ) РОССИЙСКИМ ЮРИДИЧЕСКИМ ЛИЦОМ, ВЫПОЛНЯЮЩИМ ФУНКЦИИ ИНОСТРАННОГО АГЕНТА.
The institution of criminal proceedings against Zarema Musaeva, who was forcibly taken to Chechnya, was expected, and the woman would be kept in Chechnya in order to put pressure on her son, says human rights defender Igor Kalyapin.
The "Caucasian Knot" has reported that on January 28, Chechen law enforcers presented to lawyers a letter signed by Zarema Musaeva in which she refused the services of an advocate. Human rights defenders and Abubakar Yangulbaev, a son of Zarema Musaeva, said she was subjected to pressure. The human rights defenders appealed to the court with a request to release Zarema Musaeva from arrest because of her poor health state. Today, Zarema Musaeva's son Ibragim Yangulbaev has been arrested in absentia by a court in Grozny in a case on justification of terrorism. The Chechen police reported that Ibragim Yangulbaev was put on the wanted list.
On January 20, the "Committee Against Torture"* announced that Zarema Musaeva, a spouse of retired federal judge Saidi Yangulbaev, was unconsciously taken away from her Nizhny Novgorod apartment in cars bearing state registration numbers with region code corresponded to Chechnya. On January 21, Chechen leader Ramzan Kadyrov confirmed that the woman had been taken to Grozny and said that the Yangulbaev family faced a place "in prison or underground."
A criminal case has been instituted against Zarema Musaeva on the use of violence against a public officer. Zarema Musaeva is accused that when she was taken to a police station, she scratched the face of a law enforcer, the "Baza" Telegram channel reports today.
Igor Kalyapin, a member of the Presidential Council for the Development of Civil Society and Human Rights, called the criminal prosecution of Zarema Musaeva expected. "It is quite obvious that the woman has been taken to Chechnya not as a witness, but in fact as a hostage in order to detain her and thus put pressure on one of her sons, who has been living abroad for a long time," noted Igor Kalyapin as quoted by the "Gazeta.ru".
* The "Committee Against Torture" (CaT) was included by the Ministry of Justice (MoJ) of Russia in the register of NCOs-foreign agents in 2015. In this regard, leaders liquidated the organization and created a new legal entity: the "Committee for the Prevention of Torture", which was also included in the list of foreign agents, and the organization was closed. At present, the "Committee Against Torture" operates as an unregistered public association.
This article was originally published on the Russian page of 24/7 Internet agency 'Caucasian Knot' on January 31, 2022 at 05:53 pm MSK. To access the full text of the article, click here.
Author: The Caucasian Knot