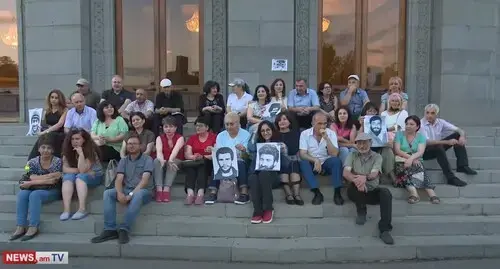 16 June 2022, 12:06
Oppositionists hold symbolic sit-in strike in Yerevan
Students of 1988, who stood at the origins of the Karabakh movement, have held a symbolic sit-in strike organized by the "Resistance" Oppositional Movement, demanding the resignation of the Armenian Prime Minister, Nikol Pashinyan.
The "Caucasian Knot" has reported that on June 15, supporters of the opposition, demanding the resignation of the Armenian Premier, held a march in Yerevan. And last night, protesters removed their tent camp from France Square in Yerevan.
On Wednesday (June 15), the "Resistance" movement also held a symbolic sit-in strike on Freedom Square in Yerevan, similar to the action held in 1988. Then, Armenian students demanded from the Supreme Soviet of Armenia to recognize Artsakh (the self-name of Nagorno-Karabakh, – note of the "Caucasian Knot") as an autonomous region and part of Armenia, said Gegam Manukyan, an MP from the "Aiyastan" bloc faction.
The protesters held in their hands the photos of those participants in the sit-in strike who perished during the Karabakh war.
Armen Davtyan, a striker, said that he was one of the then students who held the strike, adding that the 1988 action yielded results.
Apres Zograbyan, another participant in the 1988 action, was a student then. According to his story, Artsakh was then and is now the main topic.
Earlier, political analysts noted the absence of broad public support for the protest movement. In their opinion, the actions may come to naught if the opposition fails to pass over to substantive changes.
This article was originally published on the Russian page of 24/7 Internet agency 'Caucasian Knot' on June 15, 2022 at 10:25 pm MSK. To access the full text of the article, click here.
Author: Armine Martirosyan Source: CK correspondent