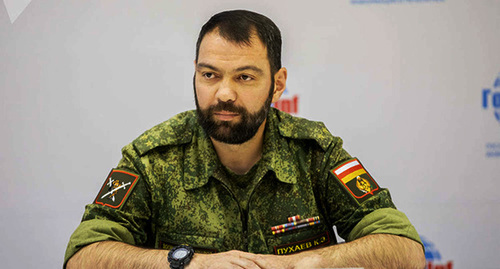 13 August 2022, 00:02
South-Ossetian Minister of Defence dismissed after special forces fighters beat a Tskhinvali resident
The President of South Ossetia dismissed Vladimir Pukhaev, the country's Minister of Defence, in connection with the beating of Azamat Djigkaev, a resident of Tskhinvali, by special forces fighters, states a decree posted on the website of the leader of the republic.
The "Caucasian Knot" has reported that on August 4, Azamat Djigkaev, a resident of Tskhinvali, was beaten by special forces fighters of the Ministry of Defence of South Ossetia. One of the attackers took part in an attack on Inal Djabiev in 2018, the Prosecutor's Office reported.
In South Ossetia, Acting Minister of Defence Vladimir Pukhaev and his deputy Igor Alborov have been dismissed. Today, the decree on the dismissal of Vladimir Pukhaev from the post of the Minister of Defence has been posted on the website of the leader of South Ossetia.
An official from the administration of the Ministry of Defence (MoD) of South Ossetia told the "Caucasian Knot" correspondent that on August 11, Vladimir Pukhaev "was invited to the government and instructed to dismiss Shalva Gabaraev, the chief of the special forces of the republic's Ministry of Defence," because his subordinates beat Azamat Djigkaev and took him away from the place of the incident in a service vehicle. "The Minister of Defence refused. He wrote a report and was dismissed," the official from the MoD of South Ossetia stated.
This article was originally published on the Russian page of 24/7 Internet agency 'Caucasian Knot' on August 12, 2022 at 04:40 pm MSK. To access the full text of the article, click here.
Author: Anna Djioeva Source: CK correspondent