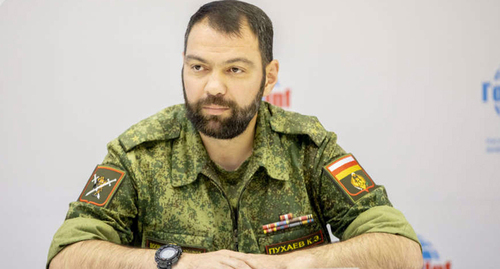 16 August 2022, 15:08
South-Ossetian MoD's staff reacts negatively to dismissal of their boss
After the dismissal of Vladimir Pukhaev, the head of the Ministry of Defence (MoD) of South Ossetia, his several subordinates wrote resignations reports in solidarity with their boss, an MoD's source has informed.
The "Caucasian Knot" has reported that on August 1, the President of South Ossetia dismissed Vladimir Pukhaev, the Defence Minister, in connection with the beating up by special agents of Azamat Djigkaev, a resident of Tskhinvali. The authorities of South Ossetia demanded from the minister to dismiss the commander of special forces, but he did not agree and submitted a resignation report.
The same was done by several MoD employees as a solidarity sign with Vladimir Pukhaev, the MoD's female employee told the "Caucasian Knot" correspondent on August 15 on the rights of anonymity. She has added that according to various sources, the number of those who wrote resignation reports varies, but they are at least seven.
Zalina, an activist of the NGO "Civil Platform", told the "Caucasian Knot" correspondent about the NGO's position in relation to the former minister.
"Vladimir Pukhaev was allocated money from the state budget to purchase a luxury official car. Instead, he purchased special uniforms for soldiers with this money. The rest of the money was sent to volunteers from Ossetia who are at war in Donbass. The minister himself continued moving around in his service "Niva" car. Prior to becoming the Minister of Defence, he had worked in the ministry for more than 20 years. During this time, he proved to be an extremely decent employee. He regularly renders his help and support to families of the fallen fighters," Zalina has stated, adding that many MoD employees are against Pukhaev's dismissal.
This article was originally published on the Russian page of 24/7 Internet agency 'Caucasian Knot' on August 16, 2022 at 05:36 am MSK. To access the full text of the article, click here.
Author: Anna Djioeva, Maria Abaiti Source: CK correspondents