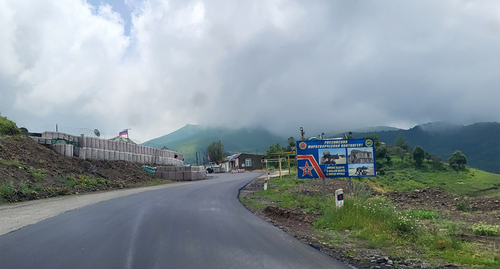 29 August 2022, 19:15
Azerbaijani analysts explain new tasks of peacekeepers in Nagorno-Karabakh
According to experts interviewed by the "Caucasian Knot", Russian peacekeepers will stay in the Lachin Corridor until the launch of an alternative road from Nagorno-Karabakh to Armenia, and then they will change their location and take control of the new route.
The "Caucasian Knot" has reported that on August 26, Azerbaijani President Ilham Aliev announced that the Azerbaijani troops had taken control of Lachin (Armenian name is Berdzor, – note of the "Caucasian Knot") and the villages of Zabukh (Armenian name is Akhavno, – note of the "Caucasian Knot") and Sous, from which local residents left at the insistence of the Karabakh authorities.
According to military expert Azad Isazade, a former employee of the Information and Analytical Department of the Ministry of Defence (MoD) of Azerbaijan, as soon as the new road around Lachin becomes operational, the Russian peacekeepers will move there. The same regime will operate in the new corridor as in the previous one, that is, it will be under the control of Russian peacekeepers, Azad Isazade emphasizes. "This territory is under the jurisdiction of Azerbaijan. But in accordance with the condition of the trilateral declaration, Azerbaijan agreed to the operation of the transport corridor and the temporary deployment of peacekeepers there," the military expert explained.
Despite the fact that the Azerbaijani army entered Lachin, the Armenians of Karabakh are given the opportunity to continue using the Lachin Corridor until the commissioning of the new road, Rasul Djafarov, the head of the Baku Human Rights Club, notes. "That is, the connection of the Armenians of Karabakh with Armenia was not interrupted even for a short time. In fact, now both Azerbaijanis and Armenians use the same road. True, Russian peacekeepers also stay in the Lachin Corridor. However, in view of the limited contingent, peacekeepers cannot able to cover the entire road," Rasul Djafarov said.
This article was originally published on the Russian page of 24/7 Internet agency 'Caucasian Knot' on August 29, 2022 at 03:26 pm MSK. To access the full text of the article, click here.
Author: Faik Medjid Source: CK correspondent