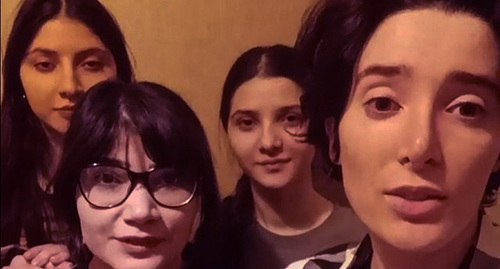 01 November 2022, 14:44
Rights defenders treat Dagestani sisters' chances to receive asylum abroad as high
The four Dagestani young women, who have accused their relatives of domestic violence, are still in Georgia, but plan to move to another country, human rights defenders have informed. Signs of beatings have been fixed on them, as well as an attempt by border guards to prevent the sisters from crossing the Russian border; and these facts increase their chances of obtaining asylum abroad, rights defenders have.
The "Caucasian Knot" has reported that on October 29, border guards in North Ossetia refused to let the four sisters from Dagestan who had fled domestic violence into Georgia. The girls themselves claimed that they were beaten up at home, forbidden to receive education and forced to marry, including to a relative. They asked not to return them to their relatives, fearing that they were searching for them "to kill." On October 30, the girls were allowed into Georgia, where they are in a safer place, the SK SOS Crisis Group has reported.
The girls are still in Georgia, but in the near future they will go to another country, Alexandra Miroshnikova, the spokeswoman for the Group, has stated. "It is too early to talk about the complete absence of risks: their families claimed that relatives would also search for them in Georgia in order to return them home," Ms Miroshnikova has explained.
She has added that the conditions for obtaining asylum depend on the country. "Abroad, in order to be granted asylum due to domestic violence, it is necessary to document that the violence took place; in Russia, such cases are not investigated; and in any Russian region, such women will still be in danger ... It is extremely difficult to document all the three factors," she said.
The recorded beatings can be evidence of violence and threats, the human rights defender has pointed out.
This article was originally published on the Russian page of 24/7 Internet agency 'Caucasian Knot' on October 31, 2022 at 02:36 pm MSK. To access the full text of the article, click here.
Source: СK correspondent