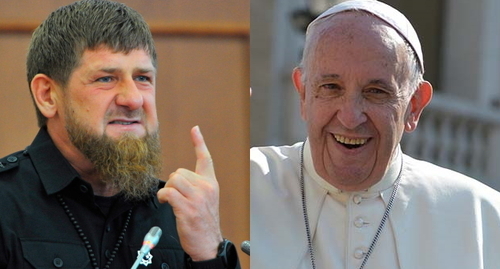 30 November 2022, 23:57
Ramzan Kadyrov calls Pope a propaganda victim
In his comment on the words of Pope Francis about the cruelty of Chechen combatants in Ukraine, Ramzan Kadyrov called him "a propaganda victim."
The "Caucasian Knot" has reported that Pope Francis, speaking about the events in Ukraine, called the "cruellest" Russian fighters, who don't adhere to the "Russian tradition – Chechens and Buryats." Akhmed Dudaev, the head of the Chechen Ministry of the Press, has treated the Pope's words as an attack on Kadyrov and traditional values. Magomed Daudov, the Speaker of the Chechen Parliament, has called the Pope's statements primitive.
On November 15, Magomed Daudov said that since the start of the special military operation (SMO), more than 20,000 Chechen fighters have fought in Ukraine, and 9029 ones are still there. In their turn, the Members of the European Parliament (MEPs) have called on the European Union (EU) to include the Chechen 141st regiment "Sever" (North), which took part in the hostilities in Ukraine, into the list of terrorist organizations.
The head of Chechnya has also reacted to Pope Francis' comment of on the events in Ukraine, by noting that he could have reminded "about the Inquisition and Crusades," but instead he would tell about "what every Chechen is guided by," both during hostilities and in peaceful life. "This is Islam," Kadyrov has written.
"We never start a fight without offering peace, as our Prophet Muhammad did. And we did it since the start of the SMO, probably, for dozens of times ... We call on the enemy to surrender, and our citizens to stand up for defence. Is this cruelty?" the head of Chechnya has written.
According to his story, among the Chechen fighters "there is not a single alcoholic or drug addict; everyone is deeply religious." "And each of the fighters knows that at war one should not forget about honour, dignity and respect even for the enemy," Kadyrov has added.
This article was originally published on the Russian page of 24/7 Internet agency 'Caucasian Knot' on November 30, 2022 at 03:59 am MSK. To access the full text of the article, click here.
Source: Caucasian Knot