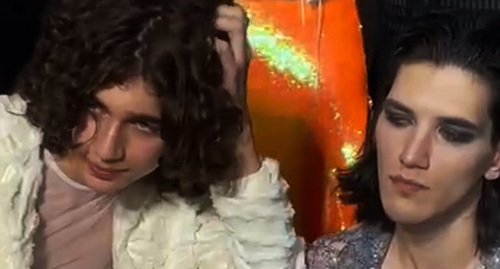 01 December 2022, 23:14
Defence rejects MIA's version about gay propaganda at fashion show in Makhachkala
The information about the closed fashion show in Makhachkala with the participation of young men in effeminate images, which the police have treated as gay propaganda, was spread in social networks by the people who had nothing to do with the store, but were interested in disrupting its work. This was stated by the advocate of the store director.
The "Caucasian Knot" has reported that in October this year, social media users reacted violently to the video from the opening of a store in Makhachkala, where two young men in feminine images participated in a fashion show. There were demands to punish the organizers for violating the foundations of the Dagestani society and to force them to apologize to the Muslims. After the resonance, the participants and spectators of the event faced threats, the journalist, Svetlana Anokhina, reported. The police opened a case against the designer, Elnara Askerova, about propaganda of non-traditional sexual relations among children. The participants of the show did not agitate anyone, therefore, they cannot be convicted of promoting homosexuality, the lawyers interviewed by the "Caucasian Knot" have noted.
The boutique "Gray House", the opening of which was dated for the show, was positioned as a women's one. After the scandal, it was closed.
The court session on the gay propaganda case has been scheduled for December 5, said Alexandra Miroshnikova, the press secretary of the SK SOS Crisis Group.
"The defence sees no offense here. The show was for invited persons, that is, it was closed ... The protocol drawn up by the Ministry of Internal Affairs (MIA) does not indicate that the filming of the event was made by an occasional passerby. The protocol also fails to indicate that the video was disseminated in social media by a user who has nothing to do with the store," the advocate has stated.
This article was originally published on the Russian page of 24/7 Internet agency 'Caucasian Knot' on November 30, 2022 at 10:47 pm MSK. To access the full text of the article, click here.
Author: Oleg Krasnov Source: СK correspondent