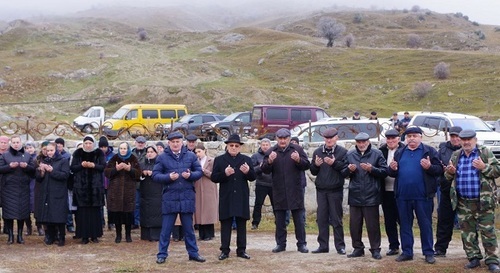 01 December 2022, 23:26
On anniversary of Cherek tragedy, Balkar villagers commemorate their perished fellow countrymen
The participants of the mourning meeting held in the Balkar village of Sautu have marked the 80th anniversary of the Cherek tragedy, by commemorating the gorge residents killed in November 1942 by NKVD (Interior Commissariat) troops.
The "Caucasian Knot" has reported that in 2006, Balkar activists demanded to rename the streets of Nalchik, named after the generals of the Soviet Army Zakharov and Kozlov, under whose command in November 1942, the NKVD troops massacred civilians in the villages of the Cherek gorge Sautu, Glashevo, Verkhny Cheget, Mukhol and Cheget-El.
In November 1942, the population of the Balkar villages of Sautu, Glashevo and Verkhny Cheget by 98.5% consisted of the elderly, women and children. These villages were completely liquidated; more than 700 civilians were barbarously killed. On March 8, 1944, thousands of Balkars, including war invalids, were deported to Kazakhstan and Central Asia.
As noted in the book "Cherek Tragedy", by November 27, 1942, in the village of Sautu "not a single person with a weapon was left." The operation of NKVD troops began late in the evening, when villagers were already in beds: soldiers "threw grenades into windows of houses, broke into the houses of sleeping villagers, took out the elderly, women, children and shot them in cold blood," and then "pulled the corpses together and burned them along with the houses." "Hostages were taken, and later they were also assassinated," the book says.
This article was originally published on the Russian page of 24/7 Internet agency 'Caucasian Knot' on December 1, 2022 at 00:58 am MSK. To access the full text of the article, click here.
Source: Caucasian Knot