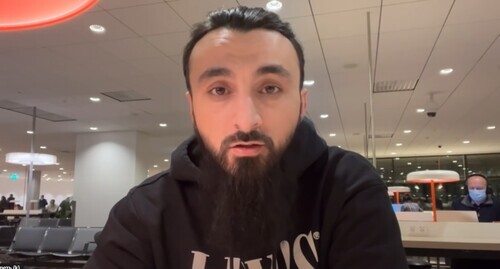 02 December 2022, 21:59
Reports of Tumso's murder spark mistrust in Chechen Diaspora
The publications in Telegram channels about the murder of the Chechen blogger, Tumso Abdurakhmanov, in Sweden don't look reliable, the "Vayfond" Association and the Assembly of European Chechens have pointed out.
The "Caucasian Knot" has reported that on October 7, 2021, it became known that Abdurakhmanov received the political refugee status in Sweden.
The information about the possible assassination of Tumso appeared on December 1 in the Telegram channel entitled "Ichkeria: heroes, enemies and traitors". Later, the channel itself refuted this message. However, the "Kavkaz Front" Telegram channel, which supports the Russian military operation in Ukraine, has posted a video showing the body of a man who vaguely resembles Tumso Abdurakhmanov. Abdurakhmanov is said to have been killed. Users pointed out that the footage shoes not Abdurakhmanov, but Aslan Guseinov, who was killed a year earlier.
There was no credible information about the murder of Abdurakhmanov, Shamil Albakov, the press secretary for the Assembly of European Chechens, has informed.
"They talk about the murder of a guy in Sweden who lived next door to Tumso. But that hasn't been confirmed either," Mr Albakov has stated, noting that Abdurakhmanov's brother was posting in social media around the same time the rumours about the murder began appearing.
This article was originally published on the Russian page of 24/7 Internet agency 'Caucasian Knot' on December 2, 2022 at 12:29 pm MSK. To access the full text of the article, click here.
Source: СK correspondent