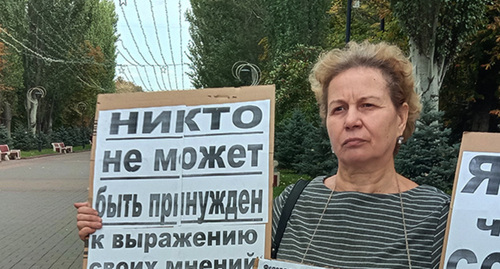 21 December 2022, 18:05
Court imposes new fine on Volgograd activist
The court has fined Tamara Grodnikova, a Volgograd activist, by 40,000 roubles for her failure to pay the earlier imposed administrative fine under the article on discrediting the army; now she must pay 70,000 roubles within two months. Grodnikova has stated that she had asked the court for an instalment plan, since her monthly pension is only 11,000 roubles.
The "Caucasian Knot" has reported that Tamara Grodnikova had repeatedly held solo pickets in Volgograd, demanding, among other things, to stop pressure on independent media and to release political prisoners. In March, 2022, Tamara was fined under the article about discrediting militaries. The amount of the fine was equal to her three monthly pensions. She appealed against the fine by pointing out that the posters she held at the picket dealt only talked blocking the media and did not express any opinion about the actions of Russian militaries in Ukraine.
"I had to survive somehow during three months in order to pay the fine on time. In fact, I had to choose between paying the imposed administrative fine and my life. I chose life," Tamara Grodnikova was indignant.
She also believes that at the picket she "stood for the defence of independent media, which, in fact, had all been blocked since the start of the special operation by the Russian Armed Forces in Ukraine."
"The Russian population has lost the legal opportunity to ask the government about the events underway in the neighbouring country … The information of our 'underground' independent media coincides with the data of major international editions. However, under the Russian legislation, this stock of information does not exist for our citizens. We can't discuss it publicly, we can't refer to it and we can't demand clarifications from our government based on this information. It's painful and sparks confusion, helplessness and stress," Tamara has stated.
In her explanation to the judge, Grodnikova has recalled that she could not pay the fine due to her "difficult financial situation."
This article was originally published on the Russian page of 24/7 Internet agency 'Caucasian Knot' on December 21, 2022 at 00:02 am MSK. To access the full text of the article, click here.
Author: Vyacheslav Yaschenko Source: СK correspondent