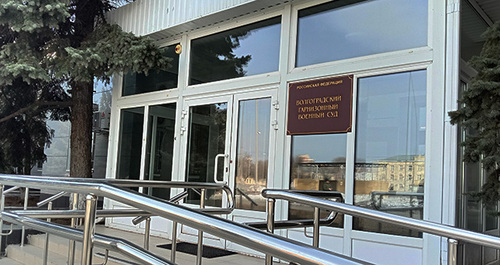 15 March 2023, 18:50
Implications of heavy trauma and contusion fail to help Volgograd resident to challenge his mobilization
Nikolai Dorofeev, a resident of the Volgograd Region, tried to challenge his mobilization in court. The draft commission and the military commissariat refused to take into account his statement about the damage to the lower leg he had received in a road accident, after which some metal structure was installed on his leg. The consideration of his claim was held without Dorofeev's presence, since he received a grave contusion in the special military operation (SMO) zone in Ukraine. However, the court has sided with the military commissariat.
Nikolai Dorofeev, 49, was called up in September 2022, as part of the partial mobilization; and on October 8, he was sent to the SMO zone. In the field conditions and during the fighting, his pain in his injured leg worsened, Vadim Goncharov, his advocate, has stated.
In January, he received a grave contusion and was taken to hospital; a week ago he was discharged and sent to a sanatorium for rehabilitation.
"There's hope that after the treatment of his grave contusion, he may be declared unfit for military service," Sergey Ivaschenko, a lawyer, has stated.
In February, the Volgograd Garrison Military Court dismissed the claim of Dmitry Denisov, a mobilized person, who was mobilized despite his chronic diseases. At the court, he tried to challenge the legality of his mobilization without a medical examination.
Earlier, Gleb Guzenko, a resident of Volgograd, demanded to invalidate the conclusion of the military medical commission and the decision on his mobilization. The commission declared him fit for military service with minor restrictions.
This article was originally published on the Russian page of 24/7 Internet agency 'Caucasian Knot' on March 15, 2023 at 02:03 pm MSK. To access the full text of the article, click here.
Author: Vyacheslav Yaschenko Source: СK correspondent