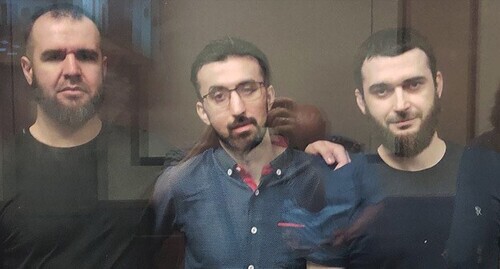 15 April 2023, 23:09
Court extends arrest of defendants in case of Dagestani journalist Abdulmumin Gadjiev
The term of arrest of Abdulmumin Gadjiev, Abubakar Rizvanov, and Kemal Tambiev, who have been in custody for about four years on the charges of financing terrorism, has been extended by other three months.
The "Caucasian Knot" has reported that on March 23, the court dismissed the motion filed by Kemal Tambiev, who requested the court to recognize his first testimony obtained under pressure as inadmissible evidence. According to the court, the results of an additional examination of the articles posted by Abdulmumin Gadjiev will not be ready until late April.
Abdulmumin Gadjiev, an editor of the Dagestani weekly newspaper "Chernovik" (Rough Draft), as well as Abubakar Rizvanov, the head of the "Ansar" charitable foundation, and Kemal Tambiev have been in custody since June 2019 on the charges of financing terrorism. The trial was delayed due to the lack of results of the examination of Abdulmumin Gadjiev's articles, which had previously been re-requested by the public prosecution. That circumstance does not allow moving on to pleadings in court, advocate emphasize.
At the court hearing on the case against Abdulmumin Gadjiev, Kemal Tambiev, and Abubakar Rizvanov held on April 13, the court considered only one issue: the extension of the pre-trial restriction measure, said Dana Sakieva, a wife of Abdulmumin Gadjiev. According to the woman, the court again ignored the arguments of the defence and extended the arrest of her husband for other three months.
For at least the past 10 years, defendants in the cases instituted under the articles on financing terrorism have not been assigned any pre-trial restriction measure other than arrest, notes advocate Abusupyan Gaitaev, who defended other defendants in similar cases. According to the advocate, he does not remember a softer pre-trial restriction measure over the years of his practice.
This article was originally published on the Russian page of 24/7 Internet agency 'Caucasian Knot' on April 14, 2023 at 03:21 am MSK. To access the full text of the article, click here.
Author: Naim Suleimanov Source: СK correspondent