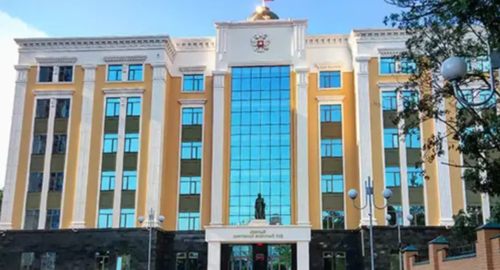 07 May 2023, 12:52
Case against five residents of Ukraine arrives in the court of Rostov-on-Don
Five citizens of Ukraine have been accused of participating in a terrorist organization; their case has been submitted to the Southern District Military Court.
Three military servicemen of the Armed Forces of Ukraine (known as the VSU) and two citizens of Ukraine are accused of participating in a terrorist community (the punishment is up to 10 years in prison), the "Interfax" News Agency has reported.
The "Caucasian Knot" has reported that on May 18, 2022, the Russian Ministry of Defence (MoD) announced the capture of 694 Ukrainian soldiers at the "Azovstal" Combine in the city of Mariupol. Some of the surrendered fighters of the "Azov"* Regiment, recognized by the Russia's Supreme Court (SC) as a terrorist organization, and the marines of the VSU were taken to the Russian city of Taganrog, others were placed into the SIZO (pre-trial prison of Rostov-on-Don.
According to the Geneva Convention, the servicemen of the "Azov"* Regiment, who were taken prisoners of war (POWs), have the respective status; however, the prosecution of them for war crimes against Russian militaries or civilians is not ruled out, lawyers have explained.
On April 23, it became known that the case of the citizens of Sweden, Croatia and Great Britain, accused under the article on "mercenarism," will be considered by the Southern District Military Court.
This article was originally published on the Russian page of 24/7 Internet agency 'Caucasian Knot' on May 6, 2023 at 00:28 am MSK. To access the full text of the article, click here.
Source: Caucasian Knot