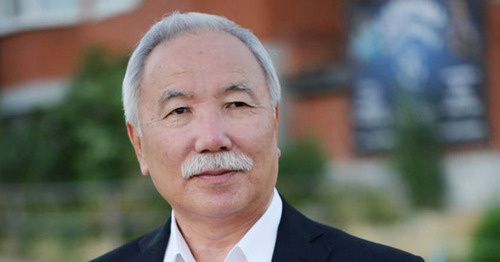 11 December 2016, 04:28
Semyon Nikolaevich Ateev
In 2015, human rights defender Semyon Ateev publicly criticized the national policy in Kalmykia; he stated the infringement of the rights of the Kalmyk language.
Mr Ateev has been nominated for the "Hero of the Caucasus-2015" contest of the "Caucasian Knot" for making public the facts, which are usually hushed up.
Activities in 2015
On June 19, Semyon Ateev went to a solo picket with an appeal to the Kalmyk people, "To preserve Kalmykia you should fight for it!" He declared that the state policy was directed against Kalmyks.
"Despite the presence of our nationals in bodies of power, in general, Kalmyk people are deprived of real mechanisms, resources and other opportunities to ensure their development in any sphere of existence – in socioeconomic, cultural, linguistic, educational and personnel policies. Everything is established and decided by the rules downloaded to us from Moscow, which disregard our national, climatic-geographical and cultural peculiarities."
In 2015, Mr Ateev openly expressed his opinion on non-observance of the constitutional rights of the Kalmyk language.
In June 2015, the "Sovremennaya Kalmykia" newspaper published his article "The Equality of National Languages in the Russian Federation Is a Fiction", in which the author wrote about the difficulties of preserving the mother tongue within the current Russia's political system.
Biography
Semyon Ateev was born on March 28, 1954, in the Novosibirsk Region.
He graduated from the Engineering Department of the Kalmyk State University with a diploma of mechanical engineer. Later, he graduated from the Moscow Academy of Economics and Law with a degree of a lawyer.
Since 1989, Semyon has actively participated in the democratic movement in Kalmykia. He was one of the organizers of the Popular Front of Kalmykia, the People's Party of Kalmykia, and all the Congresses of the Kalmyk People.
In 2008, Mr Ateev won the All-Russian Journalists' Contest "The Holocaust: Memory and Warning".
In the same year, he was awarded the diploma of the final stage of the contest for the Andrei Sakharov Award "For Journalism as a Deed".
In 2009, Mr Ateev became a laureate of the All-Russian Contest of Journalistic Skills "Ways of Caucasus' Advance in the Mirror of Mass Media".
He prepared and published several reports on the observance of human rights in the Republic of Kalmykia.
Mr Ateev is a member of the Russian Union of Journalists.
He is the author of the book "Rasprava" (Massacre) narrating about the tragic events of September 2004 in the city of Elista. In 2014, he wrote and published the book "The Steppe Eagle Does Not Live In the Swamp".
The Presidential Administration of Russia has acknowledged with gratitude Mr Ateev's active assistance in bringing a number of laws of the Republic of Kalmykia in compliance with the Constitution of the Russian Federation and the federal legislation.