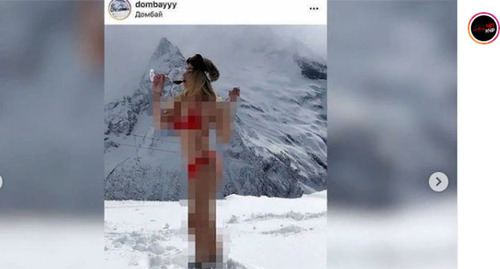 11 January 2022, 14:48
Social media users criticize young women for half-naked photos on Dombay
It is unacceptable to appear in resorts of Karachay-Cherkessia half-naked, and such behaviour contradicts local traditions, Instagram users declare. They criticized young women for taking photos in bathing suits at the Dombay resort. Their opponents argue that moral guardians ignore the more important problems in the republic.
The "Caucasian Knot" has reported that in June 2021, a video of a seducing dance against the backdrop of mountains and a traditional ancestral stone tower sparked a dispute over restrictions on tourists in North Ossetia. Instagram users suggested distributing among tourists the brochures about local customs and seeking public apologies in case of violations.
Instagram users massively complain about the "dombayyy" page for a photo from the Dombay resort posted there. The post is accompanied by a screenshot from the "dombayyy" page, where a photo of a female skier in a papakha hat was posted. The young woman's body is concealed by pixels as she is partially naked.
The post expresses users' dissatisfaction with the fact that tourists coming to the Caucasus "do not take into account the local mentality." Authors of the post request the Dombay administration and public organizations to "take appropriate steps."
This article was originally published on the Russian page of 24/7 Internet agency 'Caucasian Knot' on January 10, 2022 at 05:50 pm MSK. To access the full text of the article, click here.
Source: CK correspondent