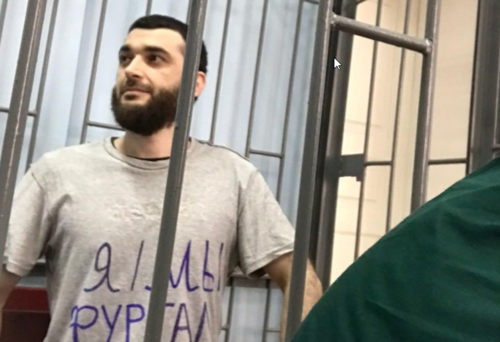 14 March 2023, 22:16
Prosecution slows down trial of the Dagestani journalist Abdulmumin Gadjiev
The trial of the case of Abdulmumin Gadjiev, a journalist of the "Chernovik" outlet, Abubakar Rizvanov, the head of the "Ansar" Charity Fund, and Kemal Tambiev, an activist, has been protracted due to the absence of examination results of Gadjiev's articles, which was again requested by the prosecution. This does not allow passing over to the debates, the advocates have informed.
The "Caucasian Knot" has reported that Gadjiev's colleagues are regularly holding solo pickets in Makhachkala in his support, as they treat the criminal case against him as politically motivated prosecution.
On March 13, in Makhachkala, two solo pickets were held in support of Gadjiev. They took place on the eve of the next court session on his case, which is scheduled for March 16, Idris Yusupov, a journalist and one of the picketers, has informed.
Arsen Shabanov, one of Gadjiev's advocates, believes that without examination of Gadjiev's articles the parties' debate cannot begin. In his opinion, court sessions are postponed only for this particular reason.
Ruslan Nagiev, Tambiev's advocate, doubts that a new expert's conclusion on Gadjiev's articles will be ready by March 16.
The advocate has added that as for the beating and other pressure on Tambiev, although there is no conclusion from the forensic medical examination, there are other proofs of this fact. "From the first days of detention, photos were made showing Tambiev's bruises and sores," Mr Nagiev asserts.
Let us remind you that the above case figurants, Gadjiev, Rizvanov and Tambiev have been in custody since June 2019 on charges of financing terrorism.
This article was originally published on the Russian page of 24/7 Internet agency 'Caucasian Knot' on March 14, 2023 at 01:35 pm MSK. To access the full text of the article, click here.
Author: Naim Suleimanov Source: СK correspondent