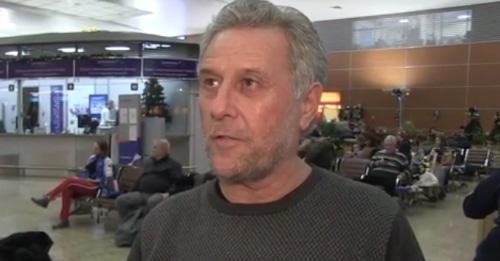 21 December 2017, 03:46
Ruslan Kutaev: I will return to Russian politics
Ruslan Kutaev, the head of the Assembly of Caucasian Nations, who has liberated from colony in Chechnya, said he was not afraid of persecutions and intended to get back into Russian political life after the expiry of the term of his administrative supervision.
The "Caucasian Knot" has reported that in July 2014, in Chechnya, Ruslan Kutaev, the chair of the Assembly of the Peoples of the Caucasus, was sentenced to four years of imprisonment on the charge of possession of drugs. On October 31, 2014, the court reduced the term of imprisonment for Ruslan Kutaev by two months. On December 20, he was released from a penal colony in Chechnya.
On February 18, 2014, on the eve of the anniversary of the deportation of the Chechen and Ingush people, Ruslan Kutaev organized a scientific and practical conference. The event did not comply with the order issued by Chechen leader Ramzan Kadyrov to re-schedule the Chechen People's Day of Memory and Sorrow to May 10. Ruslan Kutaev was detained and then sentenced to imprisonment. The Human Rights Centre (HRC) "Memorial" recognized Ruslan Kutaev as a political prisoner. According to the rights defenders, after his detention, Ruslan Kutaev was subjected to torture.
According to Mr Kutaev, on December 20, he flew from Chechnya to Moscow, to go from there to the city of Ivanovo, the place of his registration, where, according to the court warrant, he must stay for one year under administrative supervision.
He has stated that he has no fear of further persecution for his words. "Why should I fear? I've committed no offences and no crimes; therefore I have nothing to be afraid of; I'll do what I did before absolutely calmly and without looking back anywhere. This is my right," the "Dozhd" (Rain) TV Channel quotes Ruslan Kutaev as saying.
He has noted that in the future he plans to return to politics. "I'm not interested in Chechen politics; I am President of the Assembly of Caucasian Nations; therefore I am interested in the Caucasus, I'm interested in Russia. I am a politician who was engaged in political activities in the Russian Federation; and as soon as the law permits, I'll deal with this again," Mr Kutaev has stated.
Full text of the article is available on the Russian page of 24/7 Internet agency 'Caucasian Knot'.