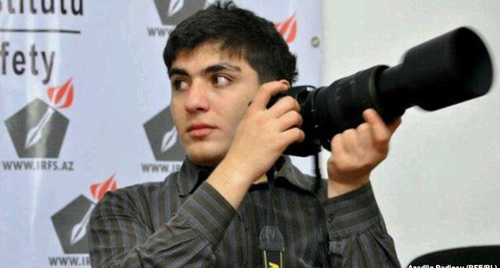 10 November 2014, 10:17
Blogger Mekhman Guseinov detained in Azerbaijan
This morning, at the Baku airport, blogger Mekhman Guseinov, a staff member of the Azerbaijani Institute for Reporters' Freedom and Safety (IRFS), was detained while he attempted to fly out of the country. He was brought to the police station on suspicion of forging a passport.
The "Caucasian Knot" has reported that in 2012, Mekhman Guseinov was prosecuted. He was accused of insulting and using force against a fighter of the special forces of the Ministry of Internal Affairs (MIA). On June 12, 2012, the blogger was detained; however, on the following day, he was released from custody. The criminal case, which has not been closed until present, has become the reason to ban Mekhman Guseinov from leaving the country on June 17, 2013, to fly to Norway to attend the ceremony where he was to be granted the 2013 Gerd Bucerius Free Press of Eastern Europe Award.
Today, the "Caucasian Knot" correspondent has been informed at the Police Department on Air Transport of the Ministry of Internal Affairs (MIA) that Mekhman Guseinov was detained in connection with the fact that he was put on the wanted list by the Sabail District Police Department. So far, no comments from the Sabail District Police Department are available.
Full text of the article is available on the Russian page of 24/7 Internet agency 'Caucasian Knot'.
Author: Faik Medzhid Source: CK correspondent