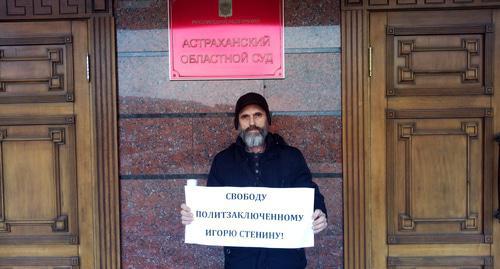 21 December 2017, 12:47
Court re-dismisses Igor Stenin's appeal
Today, after the General Prosecutor's Office request, the Court of the Astrakhan Region has once again considered the complaints filed by advocates of activist Igor Stenin. The verdict to the activist has been upheld. The court hearing has taken place against the background of a picket in defence of Igor Stenin.
The "Caucasian Knot" has reported that on May 16, 2016, Igor Stenin was sentenced to two years of imprisonment in a settlement colony for reposting in a social network of an article about the war in Ukraine. He was found guilty of spreading calls for extremism. His defence tried to explain that it was another user's comment to a Stenin's entry.
Today, the Court of the Astrakhan Region has started the second hearing of appeals filed by Igor Stenin and advocate Tatiana Ivanushkina against the court verdict.
During the debates, a public prosecutor requested the Court to uphold the verdict and stated that "Igor Stenin's guilt had been proven." The defence insisted Igor Stenin was not guilty.
After the debate, the Court announced the operative part of its decision: to uphold the verdict and to dismiss the defence appeals.
The Igor Stenin's defence has already announced the intention to challenge the Court's decision.
While the decision of the appellate ruling was being pronounced, local activist Mikhail Anisenko came out to hold a solo picket near the building of the Court of the Astrakhan Region. He unfolded a poster reading: "Freedom to political prisoner Igor Stenin."
Full text of the article is available on the Russian page of 24/7 Internet agency 'Caucasian Knot'.
Author: Elena Grebenyuk Source: CK correspondent