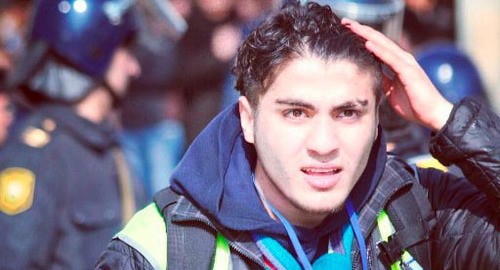 07 January 2019, 17:22
Six activists detained at action in support of Mekhman Guseinov
The Baku police have detained picketers in defence of the blogger Mekhman Guseinov, who had gone on a hunger strike in jail. However, the authorities report that he has himself stopped his protest.
The "Caucasian Knot" has reported that on January 3, in Baku, the police detained 15 participants of the action in Guseinov's defence. On January 4, eight of them were found guilty of violating the order of holding meetings and sentenced to fines and arrests.
Mekhman Guseinov had complained of torture after his detention; and on March 3, 2017, was sentenced to two years in prison on charges of defamation. On December 26, 2018, the country's Penitentiary Service announced that two months before the end of the prison term, Guseinov beat up a prison employee. Human rights defenders assert that the new criminal case was initiated in revenge on the blogger for his criticizing the authorities.
The activists who tried to hold a picket in Guseinov's support in front of the courthouse in Baku have been taken to the police, the "Turan" News Agency has reported.
On December 26, Guseinov went on a dry hunger strike in colony in protest against the new criminal case; and on December 30, after a sharp deterioration in his state of health, he began drinking water.
The press service of the Azerbaijani Ombudsperson has reported that Ombudsperson's representatives had met Mekhman Guseinov at the SIZO (pre-trial prison). According to their story, Guseinov takes food, receives parcels and is under doctors' supervision.
A source from the Penitentiary Service has clarified that Guseinov was on a hunger strike for only one day.
Guseinov had published on the Facebook videos on corruption of high-ranking officials.
Let us remind you that on January 3 and 4, three Azerbaijani activists also went on a hunger strike in support of Guseinov, demanding his release.
This article was originally published on the Russian page of 24/7 Internet agency 'Caucasian Knot' on January 7, 2019 at 01:54 am MSK. To access the full text of the article, click here.