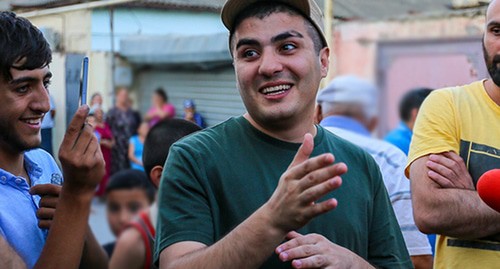 22 January 2019, 21:03
Mekhman Guseinov's case stopped after Azerbaijani president's interference
The Azerbaijani President, Ilham Aliev, reacted to Mekhman Guseinov's innocence statement; and investigators have stopped the new criminal case initiated against the blogger, the General Prosecutor's Office (GPO) has announced. Emin, Mekhman's brother, has treated the authorities' decision as a concession to the international community.
The "Caucasian Knot" has reported that two months before the end of his prison term, Guseinov was accused of beating up a prison employee. Rights defenders found the new criminal case to be a revenge for the blogger's criticism of the authorities.
The press service of the Azerbaijani GPO has stated that after the Mekhman's and rights defenders' appeals to the president, the latter called for ensuring the objectivity of the inquiry.
"Investigators, taking into account Guseinov's young age, the absence of bringing him to disciplinary responsibility while in jail, his entering the path of correction, and his single elderly father ... has stopped his criminal prosecution," the GPO's press service has stated, noting that Guseinov had stopped his hunger strike.
Mekhman's case caused a great resonance, his brother, Emin Guseinov, the Executive Director of the Institute for Reporters' Freedom and Safety (IRFS), has stated.
"The European Parliament has already adopted a tough resolution, demanding to release Mekhman and many other country's political prisoners. The issue was also raised at the PACE (Parliamentary Assembly of the Council of Europe)," said Emin.
On January 19, the opposition went out to a rally in Baku demanding the release of political prisoners, including Mekhman Guseinov.
This article was originally published on the Russian page of 24/7 Internet agency 'Caucasian Knot' on January 22, 2019 at 01:30 pm MSK. To access the full text of the article, click here.
Author: Faik Medjid Source: CK correspondent