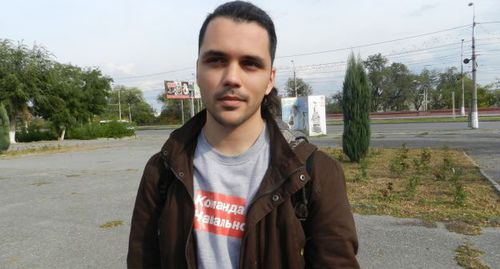 22 January 2021, 13:43
Head of Navalny's office detained in Volgograd
Evgeny Kochegin, the head of Navalny's Volgograd office, and activist Maria Khudoyarova were taken to the police station, Sergey Kunitsky, an advocate, told the "Caucasian Knot" correspondent.
The "Caucasian Knot" has reported that Kuban (Krasnodar Territory) activists also stated law enforcers' pressure. On January 21, they detained the coordinator of Navalny's office in Krasnodar; and today, they came for conducting a search to the advocate who is defending her. Two Sochi residents also complained about pressure from law enforcers `in connection with the actions in support of Navalny.
On January 17, Russian opposition leader Alexei Navalny, who flew from Berlin to Moscow, was detained at the Sheremetyevo Airport, and on January 18, the court ruled to keep him in custody until February 15, 2021.
After Navalny's arrest, the FBK has released an investigation about Putin's palace near the city of Gelendjik, Krasnodar Territory, the largest private house in Russia, which is being built for money of state-owned companies.
According to Sergey Kunitsky, Evgeny Kochegin called him and informed about his detention. "The grounds for the detention are ridiculous – he is allegedly a witness in the drug possession case. They said that if a lawyer is not found within an hour, the interrogation will be conducted without an advocate," Evgeny said.
This article was originally published on the Russian page of 24/7 Internet agency 'Caucasian Knot' on January 22, 2021 at 10:52 am MSK. To access the full text of the article, click here.
Author: Tatiana Filimonova Source: CK correspondent