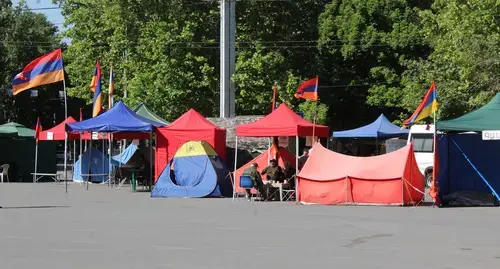 15 June 2022, 15:08
Opposition closes its tent camp in central Yerevan
The participants of the protest action, held in central Yerevan since May 1, have rolled up their tents and will now join the activists seeking the resignation of Nikol Pashinyan in their street protests, Ishkhan Sagatelyan, a Vice-Speaker of the Armenian Parliament, has explained.
The "Caucasian Knot" has reported that on May 1, the Armenian opposition announced an endless protest action. Activists set up tents in France Square in Yerevan and announced a strike demanding the resignation of Nikol Pashinyan, the Armenian Prime Minister.
Last night, the opposition dismantled their tent camp, which existed in France Square for about six weeks, the "News.am" has reported.
Ishkhan Sagatelyan, an oppositional MP and a Vice-Speaker of the Armenian Parliament, said that the tent camp had fulfilled its mission; and now the activists will act according to the new strategy. The opposition will try with all its efforts to disrupt the conclusion of a peace treaty of the Pashinyan's government with Azerbaijani authorities, Mr Sagatelyan has added.
The opposition will regularly hold street actions, rallies, marches and discussions; it will set up its subdivisions, including in Nagorno-Karabakh.
This article was originally published on the Russian page of 24/7 Internet agency 'Caucasian Knot' on June 15, 2022 at 09:38 am MSK. To access the full text of the article, click here.
Source: Caucasian Knot