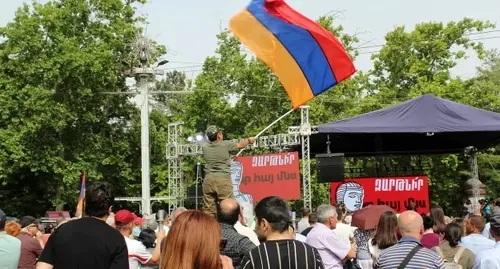 20 June 2022, 10:23
Opposition presents its vision of Armenia's future
The oppositional rally held in Yerevan has accused the country's Prime Minister, Nikol Pashinyan, of a failed policy. In protesters' opinion, after the overthrow of Pashinyan's power, the country will have to reform many areas, as well as develop a new national security strategy.
The "Caucasian Knot" has reported that starting from April 25, supporters of the opposition have been holding their disobedience actions demanding Pashinyan's resignation.
On June 19, the "Resistance" oppositional movement held a rally in France Square in Yerevan. The participants of the rally presented their views on what a renewed state should look like; what the values that form the basis thereof should be, as well as what the development path of Armenia and Nagorno-Karabakh would be.
In their speeches, oppositionists criticized Nikol Pashinyan, stating that his rule had led to the country's economic and social problems.
Aram Vardevanyan, an MP, has stated that those who come to power after Nikol Pashinyan should take into account that the judicial and law enforcement systems must be independent; otherwise there will be no reforms in the country.
Artak Zakaryan, a member of the oppositional movement, has noted that the new power will have to develop a new national security strategy; and the foreign policy should be precise and targeted.
This article was originally published on the Russian page of 24/7 Internet agency 'Caucasian Knot' on June 19, 2022 at 02:55 am MSK. To access the full text of the article, click here.
Author: Armine Martirosyan Source: CK correspondent