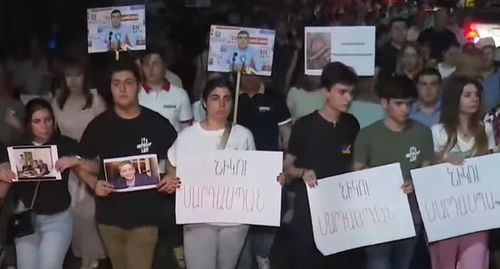 16 July 2022, 20:16
Yerevan: protesters blame authorities for death of producer Armen Grigoryan
Authorities' actions resulted in the fact that the health of film producer Armen Grigoryan had deteriorated, and he died in the courtroom from cardiac arrest, protesters in Yerevan have claimed.
The "Caucasian Knot" has reported that Grigoryan, accused of inciting interethnic hatred, died on July 15 during a court session. The opposition has noted that he was kept under arrest despite his health problems.
The protesters commemorated Armen Grigoryan with a minute of silence. The rally also showed footage of an interview with Grigoryan, in which he calls to stand up for Armenia and Nagorno-Karabakh.
After the war, Armen Grigoryan joined the protest movement; he has fallen victim to authorities, whose outrage led to the deterioration of his health, Sevak Nazaryan, the moderator of the protest action, has stated.
Ruben Melikyan, an advocate, has noted that Grigoryan did not allow his defence to raise the issue of his health at the trial. According to the advocate, for Grigoryan, it was a matter of dignity and honour.
Ishkhan Sagatelyan, an MP from the "Aiastan" oppositional faction, has stated that the power had been usurped by the people who serve the enemy's interests; and everyone who speaks out against territorial concessions and the surrender of Armenia and Karabakh is being persecuted.
This article was originally published on the Russian page of 24/7 Internet agency 'Caucasian Knot' on July 16, 2022 at 04:19 am MSK. To access the full text of the article, click here.
Author: Tigran Petrosyan Source: СK correspondent