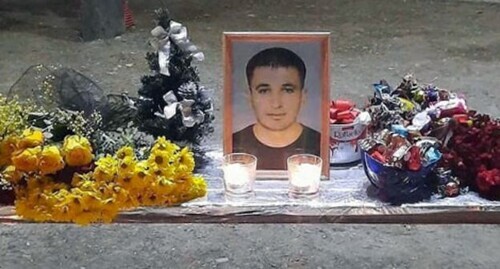 29 August 2022, 12:38
Two years after Djabiev's death, court fails to find perpetrators
The General Prosecutor's Office (GPO) has failed yet with the demand voiced out by the court on August 1 to eliminate violations in the case of the death of Inal Djabiev, Sergey Bitiev, the Acting Public Prosecutor of South Ossetia has informed. Those guilty of Djabiev's death remain unpunished for two years, Telegram users have pointed out.
The "Caucasian Knot" has reported that on August 1, the Tskhinvali City Court ruled to return the case on Djabiev's death to the prosecutor's office to eliminate the detected violations, having satisfied the petition of the defence of Oksana Sotieva, the Djabiev's widow.
The case on Djabiev's death has not yet been received by the GPO, since it is still in the judiciary, Sergey Bitiev said on August 28.
The fact that August 28 marks two years since Djabiev's death was recalled in their publication by the administrators of the Telegram channel "BONV[Ӕ]RNON". "Two years ago, in Tskhinvali, as a result of torture by law enforcers, Inal Djabiev died," the post says.
Some commentators to the post have expressed hope that those guilty would be punished after earlier in May, Alan Gagloev became President of South Ossetia. "I think Alan won't leave the case without attention ... Give him a little more time; it's not so easy," the user Zaurbek G has written. "Iron is forged while it's hot; then it's useless to hammer it," another user, Marina Doguzova has objected.
This article was originally published on the Russian page of 24/7 Internet agency 'Caucasian Knot' on August 28, 2022 at 03:20 pm MSK. To access the full text of the article, click here.
Author: The Caucasian Knot