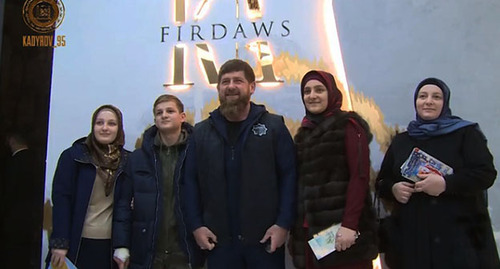 16 September 2022, 13:28
US Treasury announces new sanctions against Kadyrov
Ramzan Kadyrov, his wife Medni and three daughters, as well as Fatima Khazueva and Aminad Akhmadova, who were named Kadyrov's wives on the list, have been sanctioned by the US Treasury Department. The "Firdaus" Fashion House, headed by Aishat Kadyrova, is also included into the sanctions list. The Treasury has linked the sanction toughening with Kadyrov's active role in the special operation in Ukraine.
The "Caucasian Knot" has reported that the US Treasury included Kadyrov in the Magnitsky sanctions list back in December 2017, calling him responsible for extrajudicial executions and torture in Chechnya. On July 20, 2020, the US State Department announced new sanctions against Kadyrov, accusing him of "numerous gross human rights violations committed over a decade ago, including torture and extrajudicial executions."
The introduction of new sanctions is due to the fact that Kadyrov "has mobilized Chechens for the war in Ukraine and was promoted to the rank of lieutenant general for his role in the special operation," the US Treasury website has explained.
On April 7, Sergey Zakharov, the Commander of the North-Caucasian District of the "Rosgrvardiya" (Russian National Guard) Troops, presented Kadyrov with the epaulettes of lieutenant general. Since the start of the military operation in Ukraine, the head of Chechnya has repeatedly announced sending volunteers to Ukraine.
The US Treasury has noted that "Kadyrov had amassed a huge fortune thanks to his close relations with President Vladimir Putin," including a house in the UAE, a private zoo, expensive private cars and a generous endowment fund.
This article was originally published on the Russian page of 24/7 Internet agency 'Caucasian Knot' on September 15, 2022 at 08:33 pm MSK. To access the full text of the article, click here.