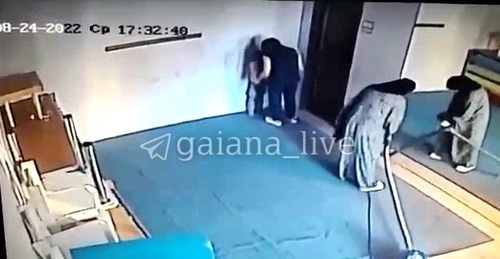 19 September 2022, 10:14
Video of child abuse in Makhachkala kindergarten angers social media users
A video footage of a kindergarten educator rudely treating a child has sparked outrage among social media users in Dagestan. The child is autistic; his parents filed a complaint with the police, the press secretary of the Dagestani Ministry of Internal Affairs (MIA) has informed.
The video from the above kindergarten shows how one educator rudely treats a child, while another kindergarten employee, ignoring this, vacuums the floor; Gayana Garieva, the press secretary of the Dagestani MIA, posted the video on her Telegram channel on September 17. "The child is disabled; he is five years old; he is autistic. He does not speak and cannot tell about what is happening to him. In May, he was placed into a private inclusive kindergarten in Makhachkala, where all the children are 'special'. At first, all was OK, but a month before ... the mother noticed a strong neurosis in the child: he began beating himself, biting his nails until he bled, and flatly refusing to go to the kindergarten. On August 24, the mother came to pick up the boy earlier and found him crying, with a trace of a slap on his face. Having demanding the records from surveillance cameras, she saw what we see now. The educator has admitted that this happened more than once. She was fired," Ms Garieva has commented on the video. The subscribers to her Telegram channel were outraged by what they saw.
"Isn't this video a basis for opening a criminal case? The educator was humiliating and torturing the child, who is obviously helpless, retarded in development and unable to inform his parents timely and in clear language! This is an aggravating circumstance!" the user with the nickname "A" has written.
"Both should have been fired. The one that vacuums the floor, too," the user AMM AMM has stated.
This article was originally published on the Russian page of 24/7 Internet agency 'Caucasian Knot' on September 18, 2022 at 08:30 am MSK. To access the full text of the article, click here.
Author: The Caucasian Knot