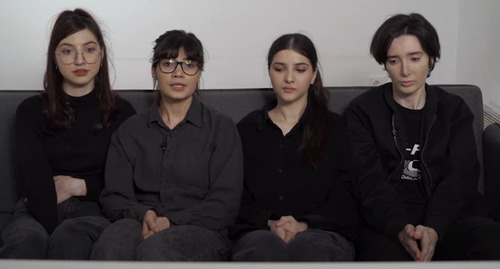 12 November 2022, 23:00
Dagestani sisters tell details of their escape from home
The four young women from Dagestan who reported their escape from domestic violence have narrated in their interview that they had planned to run away since childhood; and the fear that they would be subjected to family pressure and restrictions for the rest of their lives was a trigger of their final decision.
The "Caucasian Knot" has reported that on October 29, Russian border guards in North Ossetia did not let the sisters from Dagestan, who had fled from domestic violence, into Georgia. The girls claimed that they had been beaten up at home and forced to marry. Finally, on October 30, the girls were allowed into Georgia. According to the SK SOS Crisis Group, the sisters are now safe, but the threat of their persecution is not over, and they need psychological support.
On November 11, Ksenia Sobchak*, a TV presenter, in her YouTube channel, posted an interview with David Isteev, the founder of the SK SOS Crisis Group, and the sisters from Dagestan, Patimat Magomedova, Khadizhat and Patimat Khizrievas and Aminat Gazimagomedova.
According to Ms Sobchak, since childhood, the girls lived under the "the strictest religious rules: they could not walk without men and express their opinions."
"For any slightest offense they were severely beaten; the girls could not get an education, and they were forced to marry those whom their parents chose. But they refused to live in such conditions and, after preparing the escape, they managed to leave their native village," told Ksenia.
When asked how the girls spent their day, Khadizhat Khizrieva replied that the table for parents was set first. "Then, we have to clean the house, look after younger brothers, help mom around the house and in cooking, as well as bring everything dad needs," she explained.
Patimat Magomedova has noted that she was only allowed to leave the house for the store.
David Isteev has also added that Khalimat Taramova, a daughter of Ramzan Kadyrov's close associate, who had been returned to her family, now tries to observe the Chechen Adats.
"She is trying to become a devout Muslim ... She's decided that it would be right if she sacrificed her life to the family," Mr Isteev has concluded.
Let us remind you that in June 2021, Taramova was abducted by law enforcers from a shelter in Makhachkala and returned to Chechnya.
This article was originally published on the Russian page of 24/7 Internet agency 'Caucasian Knot' on November 12, 2022 at 10:15 am MSK. To access the full text of the article, click here.
Source: Caucasian Knot