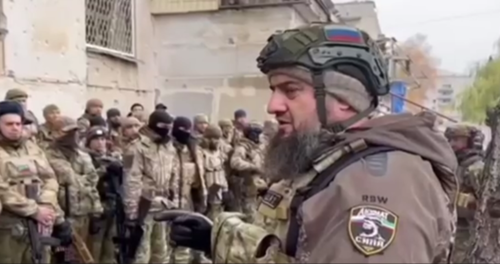 22 November 2022, 10:15
Chechen theologian calls on not to be afraid to die in "fight against Satanism" in Ukraine
Magomed Khitanaev, a theologian from Chechnya, has called on Christians and Muslims to fight together "against Satan" in Ukraine without fear of death, thus explaining the need for the special military operation.
The "Caucasian Knot" has reported that on February 26, Ramzan Kadyrov announced that Chechen fighters had left for Ukraine to carry out the orders of Russian President Vladimir Putin. On March 29, Ramzan Kadyrov called on Chechen law enforcers to be prepared to "die in the way of jihad." On October 25, the leader of Chechnya added that Muslims should not look for excuses from participating in the battles that are "the jihad against the satanic democracy."
Ramzan Kadyrov also called on Chechen Sufis to form military units on the principle of belonging to certain religious brotherhoods. According to analysts, the leader of Chechnya is looking for a new mobilization resource in Chechnya, but the addressees of his appeal are ideologically unwilling to participate in hostilities.
Akhmed Dudaev, Chechen Minister of Press, posted on the Internet a video with the speech of theologian Magomed Khitanaev voiced in front of the fighters. According to the Chechen Minister, the video was filmed in the zone of the special military operation in Ukraine. "He explains to them what a great feat they are doing in the fight against Satanism, and what a huge significance this battle has for history," Akhmed Dudaev wrote under the video.
Magomed Khitanaev called on the fighters to "defend Ukraine, Russia, and all the believers on this earth.' At the same time, the theologian called on the fighters not to be afraid of death.
"Let us die on this path, but our children are proud of us, and they say: 'Our fathers and children were defending the religion and their honour!'," Magomed Khitanaev declared in his speech.
This article was originally published on the Russian page of 24/7 Internet agency 'Caucasian Knot' on November 20, 2022 at 09:37 pm MSK. To access the full text of the article, click here.
Source: Caucasian Knot