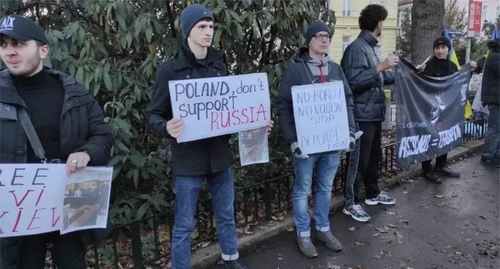 28 November 2022, 16:38
Vienna: protesters oppose Chechen's deportation to Russia
If extradited from Poland to Russia, Alvi Akiev, a native of Chechnya, will face torture and criminal prosecution. This was claimed by protesters in Austria, who demanded Akiev's release from the migrant camp.
The rally was held near the building of the Polish Embassy in Vienna, the capital of Austria; the participants thereof opposed the deportation of Alvi Akiev, a Chechen refugee, to Russia, the "Dosh" magazine reports in its Telegram channel. The protesters expressed their fear that Akiev would face torture and imprisonment in Russia.
In 2018, a criminal case was opened in Russia against Akiev for his participation in an illegal armed formation (IAF) in Syria. He spent four years at a Polish migration prison. Now, he has been arrested on charges of staying illegally in Poland and may be deported from the country.
About 30 people took part in the above protest rally.
Earlier, Russia tried to extradite Akiev, but a court in Warsaw had confirmed the danger of his return to Russia.
The "Caucasian Knot" has also reported about other cases when protesters in Vienna demanded not to admit deportation of natives of Chechnya to Russia. Thus, on October 16, members of the Chechen Diaspora held a picket in support of Amina Gerikhanova, whom Russia had put on the wanted list as a participant in hostilities in Syria. On November 4, it became known that Gerikhanova was granted refugee status in Romania.
On September 23, the "Vayfond" human rights association reported that the Austrian Ministry of Internal Affairs (MIA) had found it possible to deport to Russia two refugees from Chechnya who had earlier "openly and rudely opposed the Kadyrov's regime." These two refugees were brothers Murad and Mukharbek Aslamkhanov, the blogger, Tumso Abdurakhmanov, has explained.
This article was originally published on the Russian page of 24/7 Internet agency 'Caucasian Knot' on November 26, 2022 at 06:14 pm MSK. To access the full text of the article, click here.
Source: Caucasian Knot