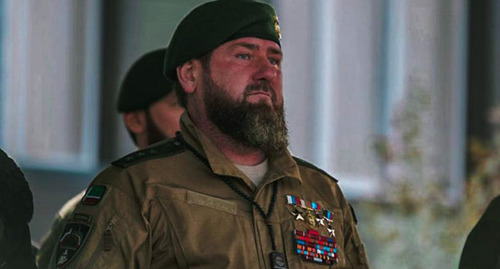 01 December 2022, 23:14
Chechen Press Minister praises Kadyrov's new award
The "Labour Valour of Russia" organization awarded Ramzan Kadyrov the "Valour of Inspired Labour" badge, and his mother also received the award. The insignia was accepted on behalf of Ramzan Kadyrov and his mother by Akhmed Dudaev, the Chechen Minister of Press.
The "Caucasian Knot" has reported that on July 27, Ramzan Kadyrov said that, on the proposal of Russian Deputy Prime Minister Marat Khusnullin, he was awarded the Order of Alexander Nevsky by the presidential decree "for his great contribution to the socio-economic development of Chechnya and the effective solution of tasks of great national importance." The socio-economic development of Chechnya, which receives multibillion-rouble subsidies, looks like not a serious reason for awarding Ramzan Kadyrov with an order, political analyst Dmitry Oreshkin points out. With this award, the Kremlin encouraged Ramzan Kadyrov for supporting the special military operation in Ukraine, Ruslan Kutaev, an expert on the Caucasus, suggests.
The "Caucasian Knot" has also reported that on October 5, Ramzan Kadyrov announced that he had been awarded the rank of Colonel General.
By assigning a new rank to Ramzan Kadyrov, who is actively criticizing the Russian Ministry of Defence (MoD), President Vladimir Putin sent a message to the army, political analyst Alexei Malashenko emphasizes. The rank of Colonel General was only evidence of the recognition of Ramzan Kadyrov's merits in the special military operation, Sergey Zhavoronkov, Senior Researcher at the Gaidar Institute for Economic Policy, argues.
This article was originally published on the Russian page of 24/7 Internet agency 'Caucasian Knot' on November 30, 2022 at 05:36 pm MSK. To access the full text of the article, click here.
Source: Caucasian Knot