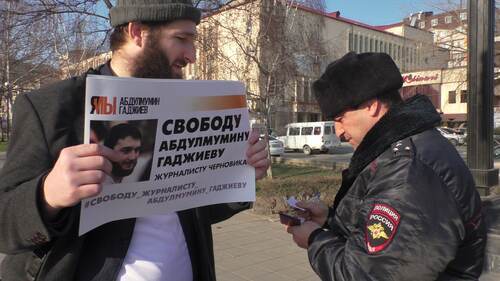 24 January 2023, 22:01
Gadjiev's colleagues treat decrease in police's interest in their pickets as temporary
Passers-by were actively interested in the solo picket held by Idris Yusupov, a journalist, in support of Abdulmumin Gadjiev; and law enforcers' attention to the action was limited to the fact that they wrote down the picketer's data, Yusupov himself has informed. The softening of police's position is only temporary and is caused by the resonance after the death of a detained Makhachkala resident, Magomed Magomedov, a deputy editor-in-chief of the "Chernovik" outlet, has suggested.
Gadjiev's colleagues treat the criminal case against him as political persecution and hold weekly solo pickets in Makhachkala in support of him. Magdi Kamalov, the founder of the "Chernovik", and the above Magomedov and Yusupov are regularly participating in the pickets. On January 2, 9 and 16, the police disrupted the pickets and detained the journalists.
However, on January 23, law enforcers made no attempts to disrupt the pickets, Idris Yusupov has noted, adding that this time the interest in the picket among passers-by and car drivers was elevated. "Very many of them expressed support with gestures and car signals. Several people came up and took pictures," Mr Yusupov has stated.
The decrease in law enforcers' attention to the actions in support of Gadjiev is due to the fact that the leadership of the Sovietsky ROVD (District Interior Division) was "busy with other proceedings," Magomed Magomedov has suggested, adding that for the first time in the past five weeks, law enforcers made no attempts to disrupt the weekly solo pickets.
This article was originally published on the Russian page of 24/7 Internet agency 'Caucasian Knot' on January 23, 2022 at 08:08 pm MSK. To access the full text of the article, click here.
Source: СK correspondent