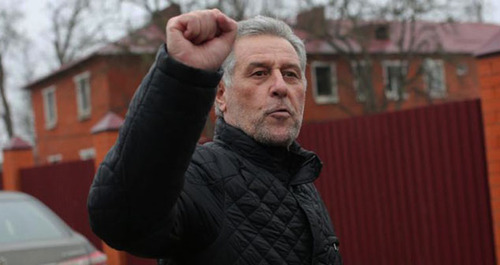 25 January 2023, 14:12
ECtHR awards compensation of 52,000 euros to Ruslan Kutaev for persecution in Chechnya
In Chechnya, a court pronounced a decision in a drug possession case against Ruslan Kutaev, the president of the Assembly of Caucasian Nations, without taking into account the fact that confessions were obtained under torture and without reliable evidence of his guilt, the European Court of Human Rights (ECtHR) has ruled. This is one of the first cases against Russia that were considered in Strasbourg without the participation of a national judge.
The "Caucasian Knot" has reported that in July 2014, Ruslan Kutaev was convicted in Chechnya for four years of imprisonment on the charge of drug possession. The court then reduced the sentence by two months. On December 20, 2017, Ruslan Kutaev was released from the penal colony.
On February 18, 2014, on the eve of the anniversary of the start of the deportation of the Chechen and Ingush people, Ruslan Kutaev organized a conference contradicting the order of Chechen leader Ramzan Kadyrov to postpone the Day of Remembrance and Sorrow of the Peoples of the Chechen Republic to May 10. Ruslan Kutaev was detained and tortured, human rights defenders said. He himself associated the persecution with his social and political activities.
The ECtHR considered the case "Kutaev v. Russia", and the case became one of the first to be considered by a chamber of seven judges after the termination of the Russia's participation in the Convention on September 16, 2022 and the termination of the powers of Russian judge Mikhail Lobov, lawyer Pavel Chikov noted in his Telegram channel.
On September 16, 2022, the Russian Federation ceased to be a party to the European Convention on Human Rights. However, the ECtHR retains its competence to consider the complaints directed against Russia, provided that they took place before the above-mentioned date.
This article was originally published on the Russian page of 24/7 Internet agency 'Caucasian Knot' on January 24, 2022 at 01:33 am MSK. To access the full text of the article, click here.
Source: Caucasian Knot