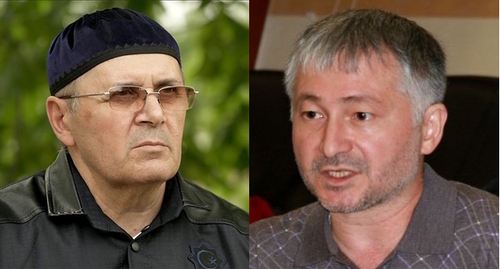 02 February 2023, 19:24
Caucasian scholars point to changes in blood feud practices
Chechen authorities are unable to eradicate the practice of blood feud; this custom has adapted itself to the Sharia Law and remains relevant, Oyub Titiev, a human rights defender, and Akhmet Yarlykapov, a Caucasian scholar, believe. 
The "Caucasian Knot" has reported that on January 16, the Muftiate reported on 58 conflicts based on the blood feuds, settled down with the participation of the clergy in 2022.
The tradition of blood feud has formed back during the tribal system. According to this custom, the relatives of the murdered must take revenge not only on the murderer, but also on his relatives.
The Muftiate of Chechnya has been working to reconcile feudists since early 2000s, during which period a total of 1433 conflicts have been settled, the Spiritual Administration of Muslims (SAM or the Muftiate) of Chechnya has reported.
On January 23, the Investigating Committee of the Russian Federation (ICRF) announced the detention of a suspected killer of a 47-year-old man in Grozny: according to law enforcers, the 43-year-old suspect confessed "to committing the murder because of hostility towards the victim."
Chechen authorities will fail to completely eradicate the blood feud tradition in the republic, Oyub Titiev, a rights defender, is sure.
"To some extent, the blood feud is a deterrent to murders and violent crimes," he has added.
The Chechen Adats, which allowed victim's relatives to take revenge on any man from the perpetrator's clan, are a thing of the past; today they are in line with the requirements of Islam, Mr Titiev has noted. "According to Islam, no one should suffer, except for the culprit himself, who must be punished," the human rights defender has explained.
He could not recall in recent years any blood feud cases of blood feuds directed at perpetrator's relatives, unless the victim was a state servant.
Akhmet Yarlykapov, a senior researcher with the Centre for Caucasian Studies at the MGIMO (Moscow State Institute of Foreign Relations), agrees that the current blood feud Adats are not counter Islam. The scientist has added that blood feud also exists in Ingushetia and Dagestan.
This article was originally published on the Russian page of 24/7 Internet agency 'Caucasian Knot' on February 2, 2023 at 05:02 am MSK. To access the full text of the article, click here.
Source: СK correspondent