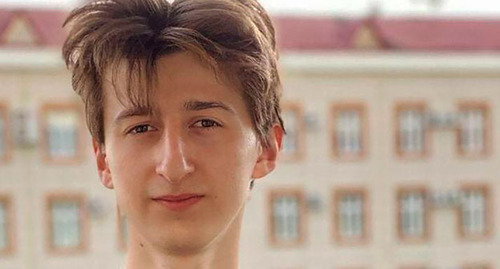 03 February 2023, 15:43
Chechen SC cancels refusal to recognize wife of killed Tepsurkaev as victim
The decision of the court, which refused to recognize a wife of Salman Tepsurkaev as a victim in the case on his kidnapping, was cancelled by the Supreme Court (SC) of Chechnya. The Court of Appeal pointed to significant violations of the law by the first instance court.
The "Caucasian Knot" has reported that Salman Tepsurkaev was killed in September 2020 and buried in an unmarked grave, but reports about his death did not appear until August 2022. According to the opposition "1Adat"* Telegram channel, his relatives were told to "bury him like a dog." On June 22, 2021, Chechen investigators refused to recognize Salman Tepsurkaev's wife Elizaveta as a victim. The European Court of Human Rights (ECtHR) found the authorities of Russia responsible for the disappearance and torture of Salman Tepsurkaev. Human rights defenders pointed out that it might be dangerous for his widow to visit Grozny.
In September 2020, a wide public outcry was provoked by a video depicting naked Salman Tepsurkaev who was sitting down on a bottle and explaining that he was doing that as a punishment for cooperating with the "1Аdat"* Telegram channel criticizing the authorities of Chechnya.
The Supreme Court of Chechnya cancelled the decision pronounced by the Staropromyslovsky District Court of Grozny, which refused to recognize the common-law wife as a victim in the case on kidnapping of Salman Tepsurkaev due to the absence of an officially registered marriage between Elizaveta and Salman, the "Team Against Torture"** reported on its website.
Lawyers pointed to the position of the European Court of Human Rights, which in 2021 considered that in the case of Salman Tepsurkaev, their religious marriage with Elizaveta was proven.
According to Yekaterina Vanslova, the head of the North-Caucasian branch of the "Team Against Torture"**, it is important for the Salman Tepsurkaev's wife to be recognized as a victim, since "for a long time, the authorities have not been able to officially establish what had happened to him."
"After receiving the status of the victim, Elizaveta will be able to monitor the progress of the investigation and influence it," Yekaterina Vanslova emphasized.
**In July 2021, the Zavodskoi District Court of Grozny recognized a number of posts by the "1Adat" Telegram channel as extremist and also recognized the "1Adat" Movement's Internet resources as prohibited, and in May 2022, the Supreme Court (SC) of Chechnya recognized the "1Adat" Movement itself as an extremist organization and banned its activities in Russia.
***The "Committee Against Torture" (CaT) was included by the Russian Ministry of Justice (MoJ) in the register of NCOs, performing the functions of a foreign agent. The lawyers who previously worked for the "Committee Against Torture" created the "Team Against Torture".
This article was originally published on the Russian page of 24/7 Internet agency 'Caucasian Knot' on February 2, 2023 at 08:27 pm MSK. To access the full text of the article, click here.
Source: Caucasian Knot