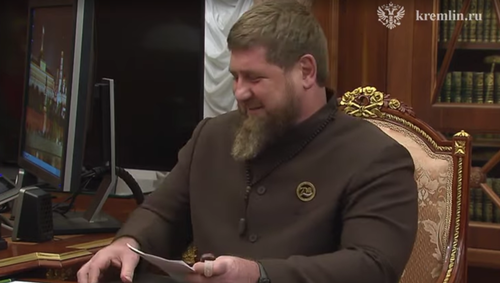 16 March 2023, 16:19
Ramzan Kadyrov responds to versions about his illness
The leader of Chechnya has announced that a device on his finger that became the subject of attention and was captured on video from a meeting with Vladimir Putin, is a prayer counter and has no medical purpose. Ramzan Kadyrov has called himself "healthy and full of strength."
The "Caucasian Knot" has reported that on March 13, during his meeting with Vladimir Putin, Ramzan Kadyrov reported about the growth of economic indicators in Chechnya, the implementation of national projects, and the decrease of unemployment.
As follows from the video published on the Kremlin's website, during the meeting with the Russian President, Ramzan Kadyrov had a device on a finger of his left hand. Akhmed Dudaev, Minister of Press of Chechnya, explained the purpose of the noticed device. "Ramzan Kadyrov bears an electronic rosary on his finger. It is a prayer counter that the leader of the region almost always carries with him," Akhmed Dudaev wrote on his Telegram channel.
After the explanation about the device had been released, Ramzan Kadyrov added that he was completely healthy. "I am healthy and full of energy. As before, I go in for sports, go to the mountains, where I go hiking. I solve important issues for the development of the republic," the leader of Chechnya wrote and added that he had one hundred percent vision.
This article was originally published on the Russian page of 24/7 Internet agency 'Caucasian Knot' on March 15, 2023 at 06:16 pm MSK. To access the full text of the article, click here.
Source: Caucasian Knot