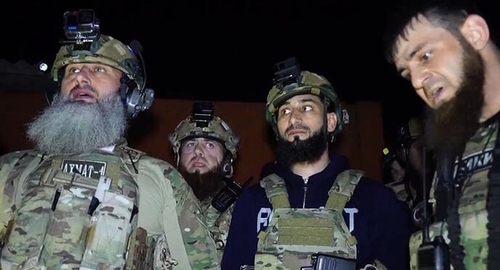 31 March 2023, 18:56
Human rights defenders criticize official version of events in Gudermes
According to human rights defenders, the staging of special operations and forgery of the results of counterterrorist activities have long been common in Northern Caucasus, the Chechen law enforcement bodies do not have a task of proving the guilt of those killed, so it is not worth to trust the official version of the incident in Gudermes.
The "Caucasian Knot" has reported that on March 29, sources reported about an attack on a police checkpoint in Gudermes when two persons were killed. Ramzan Kadyrov stated that law enforcers cordoned off two militants who refused to surrender, threw a grenade, and were killed.
Ramzan Kadyrov's version of a planned special operation does not inspire confidence, since human rights defenders are aware of cases of staged armed clashes, when kidnapped people were declared to be militants killed during resistance, emphasizes Svetlana Gannushkina*, the chair of the "Civic Assistance Committee"*.
The human rights defender doubts that the special operation in Gudemes is related to the attack on the Ingush police checkpoint a day earlier.
Human rights defender Igor Kalyapin notes that there is no objective evidence of the guilt of those killed during the special operations: only a court may find a person guilty, but law enforcers in Chechnya prefer to crack down on suspects on the spot.
The eldest of the men killed in Gudermes suffered from a mental disorder, the "Kavkaz.Realii"* reported with reference to its source.
The presence at the place of the special operation of a Ramzan Kadyrov's minor son with a weapon in his hands obviously contradicts the norms of the law, lawyer Natalia Sekretaryova notes.
*Included by the Russian Ministry of Justice (MoJ) into the register of foreign agents.
This article was originally published on the Russian page of 24/7 Internet agency 'Caucasian Knot' on March 30, 2023 at 03:55 am MSK. To access the full text of the article, click here.
Source: СK correspondent