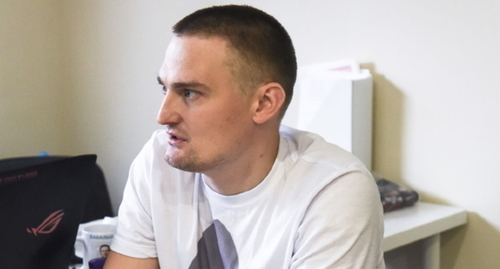 31 March 2023, 20:40
Clooney Foundation demands to cancel verdict to Mikhail Benyash*
The sentence to Mikhail Benyash, a lawyer, passed within the case of attacking law enforcers was one of the stages of his prosecution by authorities and should be cancelled, the Clooney human rights foundation "For Justice" has stated.
The "Caucasian Knot" has reported that on March 6, the court sentenced Benyash to a fine, finding him guilty of attacking law enforcers.
On September 9, 2018, Mikhail Benyash was detained in Krasnodar along with participants in an unsanctioned rally against the pension reform. According to investigators, Benyash used violence against policemen, causing them physical pain; he grabbed and bit the hand of one of law enforcers. Benyash himself reported that after his detention he was beaten up.
"The George and Amal Clooney's Human Rights Foundation 'For Justice' has once again described my criminal case ... The Clooney spouses managed to create a very cool human rights organization," Mr Benyash wrote in his Telegram channel.
Mikhail Benyash is known for his participation in the cases of detainees at rallies. In 2022, he was put on the list of foreign agents; and in early 2023, he was deprived of his lawyer status.
Recently, Mikhail's activeness was focused on representing the interests of participants in pacifist protests and the militaries, who do not want to participate in the military operation in Ukraine, the Foundation's website has explained.
Let us remind you that in September 2019, after Kuban (Krasnodar Territory) courts found the refusal to initiate a case on beating Benyash as lawful, he filed a complaint with the European Court of Human Rights (ECtHR).
This article was originally published on the Russian page of 24/7 Internet agency 'Caucasian Knot' on March 31, 2023 at 10:36 am MSK. To access the full text of the article, click here.
Source: Caucasian Knot