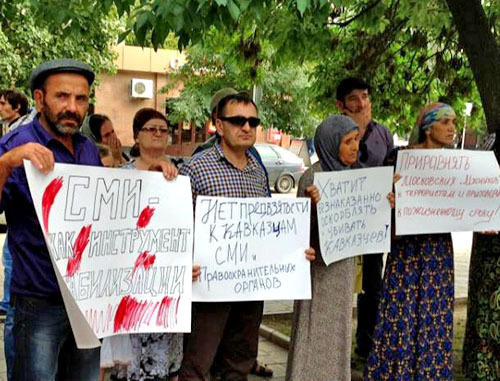 21 August 2013, 19:25
Picket against discrimination of natives of Northern Caucasus held in Chechnya
On August 21, Grozny hosted a picket against discrimination of natives of Northern Caucasus in other regions of Russia, Kheda Saratova, one of the organizers of the action and a member of the Presidium of the "United Caucasian Forum" reported.
The reason for the picket was the murder in Moscow of residents of Chechnya Ramzan Merzhoev and Hussein Germikhanov, and an Azerbaijan's citizen Elkhan Abazov, who is a native of Dagestan.
At least 150 people gathered in Journalists' Mini-Park; they were addressed, among other speakers, by Elkhan Abazov's father, who demanded fair investigation of the murder of his son and his son's two friends, Kheda Saratova told the "Caucasian Knot" correspondent.
According to her story, apart from relatives of the casualties, the picket was attended by the staff of the Office of the Ombudsman of Chechnya, activists of various human rights organizations of the region, members of the Public Chamber of Chechnya and ordinary citizens of Grozny.
One of the picketers, who presented himself as a relative of the Chechen casualties, said that in Russia people from Northern Caucasus are killed with impunity.
"When someone kills a resident of central Russia in Moscow, it immediately becomes a sensation. The media are inflating scandals, events like in Manezh Square are held and pogroms are committed in marketplaces. But when Caucasians are brutally murdered one by one – neither law enforcement bodies, nor the media have any interest. All this is a deliberate policy," said the source.
Author: Karina Gadzhieva Source: CK correspondent