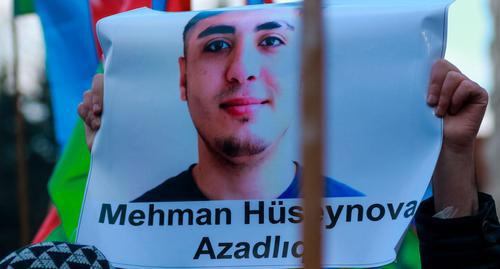 02 January 2019, 08:11
Father of blogger Guseinov denied meeting his son at SIZO
The administration of Baku SIZO-1 (pre-trial prison) did not allow the father of the blogger Mekhman Guseinov to visit his son today, as the father, Rafig Guseinov himself, told the "Caucasian Knot", expressing his concern for his son.
The "Caucasian Knot" has reported that the blogger Mekhman Guseinov went on a dry hunger strike on December 26, in an Azerbaijani colony, protesting against the new criminal case initiated against him two months before the end of his prison term. On December 30, after being transferred to the SIZO and a sharp deterioration in his health, Mekhman began drinking water.
On March 3, 2017, Mekhman Guseinov was sentenced to two years in prison on charges of slander, because he had declared torture after his detention. On December 26, the country's Penitentiary Service stated that two months before the end of his prison term, Guseinov was trying to prevent a search and beat up a prison employee. Human rights defenders believe that a new case has been brought against Guseinov out of revenge for his statements.
On January 1, Rafig Guseinov, the father, came to the SIZO intending to see his son. "But at the Kurdakhani SIZO they told me that Mekhman arrived there only three days ago; and, as they said, he was under quarantine; and therefore no meetings with him were allowed," Rafig Guseinov told the "Caucasian Knot" correspondent.
"They told me nothing about his health; yesterday he told me on the phone that he felt bad. It was clear by his voice: I could hardly hear him. It was clear that he was very weak," said the father.
In his turn, Mekhman Sadygov, the head of the public relations division of the Penitentiary Service, has stated that the blogger Mekhman Guseinov is not on a hunger strike and has no health problems.
This article was originally published on the Russian page of 24/7 Internet agency 'Caucasian Knot' on January 1, 2019 at 06:32 pm MSK. To access the full text of the article, click here.
Author: Faik Medzhid Source: CK correspondent