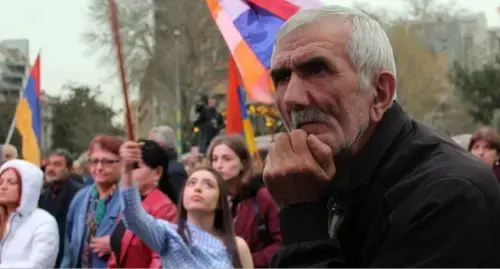 13 June 2022, 13:47
Armenian political analysts note absence of public support of opposition
The protest movement has no broad public support, analysts assert. The protests may come to naught if the opposition fails to move on to substantive changes, Armen Badalyan has noted.
The "Caucasian Knot" has reported that on June 11, the youth wing of the "Resistance" oppositional movement held a procession in Yerevan demanding the release of the detainees. Protesters claimed that authorities were trying to extinguish the movement by means of arrests.
Opposition supporters have been holding protests in Armenia since April 25; they are accompanied by mass detentions and clashes. The largest incident occurred on June 3 in Yerevan, when 39 policemen and 21 demonstrators received traumas.
The protest movement has reached a critical point, Armen Badalyan, a political strategist, has stated. He believes that coordinators made tactical mistakes; and since May 4-5, the actions have been going on by inertia.
Akop Badalyan, a political observer, has treated the dynamics of the protest movement as stable; despite the absence of broad public support, it hasn't subsided. He has noted that the opposition has a rather harsh rhetoric.
According to the Union of Informed Citizens, the dynamics of participation in the protest movement is declining. Thus, more than 12,500 people came to the rally on May 1, and only 2870 people gathered for two June rallies.
This article was originally published on the Russian page of 24/7 Internet agency 'Caucasian Knot' on June 12, 2022 at 01:53 am MSK. To access the full text of the article, click here.
Author: Armine Martirosyan, Tigran Petrosyan Source: CK correspondents