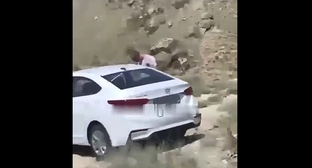 19 August 2022, 14:00
Attacks on tourists stress Dagestanis' intolerance
The residents of Dagestan, who have scolded the guests of the republic for trying to retire in the mountains, exhibited excessive zeal, Shamil Khadulaev, a member of the Public Chamber, and Albert Esedov, a political analyst, believe. In his turn, Ali Abakarov, a lawyer, asserts that there was no violation of the law in the tourists' behaviour.
The "Caucasian Knot" has reported that on August 14, the tourist who had tried to seclude himself with a woman in the mountains posted a video with an apology to residents of Dagestan. He explained that he came to Dagestan for the first time and was unaware of what he shouldn't do in the mountains.
The person who filmed the video could have been specifically following the tourists, Shamil Khadulaev, a member of the Dagestani Public Chamber, who is also the chairman of the coordinating council of non-commercial organizations (NCOs), has suggested. "However, tourists need to understand: what will be left without attention in their homeland won't be ignored in Dagestan. There is no need to scare tourists, but they should be warned in dome correct form," Mr Khadulaev has explained.
"The mass domestic tourism to Dagestan in recent years ... demonstrates the mental unpreparedness for the peculiarities of our republic, both of local residents and visitors," Albert Esedov, a political analyst, has noted.
On August 13, Abdula Magomedaliev, the Imam of the village of Gunib, urged tourists, in his video appeal, to respect the local dress code. He emphasized that clothing should be wide, not highlighting the body contours, especially for women.
In her Telegram channel, Gayana Garieva, the press secretary of the Dagestani Ministry of Internal Affairs (MIA), has criticized the author of the video. She has noted that the tourists were "in an absolutely secluded place."
This article was originally published on the Russian page of 24/7 Internet agency 'Caucasian Knot' on August 19, 2022 at 07:53 am MSK. To access the full text of the article, click here.
Author: Oleg Ionov Source: СK correspondent