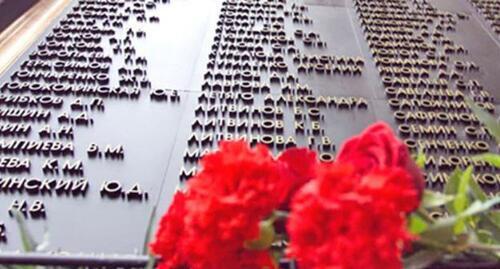 22 October 2022, 23:21
Moscow announces commemorative events on 20th anniversary of Dubrovka terror act
Twenty years after the hostage-taking at the "Dubrovka" Theatrical Centre, a requiem concert and a memorial service are planned, as well as a show of the film about the terror act, the NGO "Nord-Ost" has announced.
The "Caucasian Knot" has reported that Russia annually commemorates the victims of the Dubrovka terror act. On October 23, 2021, due to the pandemic, the commemoration was limited to laying flowers and a minute of silence.
In October 2021, victims' relatives stated that 19 years after the tragedy, authorities still failed to reveal the reason of deaths; and many of the victims have diseases of toxic origin.
It is planned to start the commemoration on October 26 in the square near the Theatrical Centre. A requiem dedication to the "Nord-Ost", a minute of silence, a launch of 130 (according to the number of victims of the terrorist attack) white balloons into the sky, the laying of flowers, a concert and a church service are also planned.
Besides, on October 23, the "Oktiabr" Movie Centre will host a memorial party and a demonstration of the film "The Conference" by Ivan Tverdovsky.
It should be reminded here that on October 23, 2002, during the musical "Nord-Ost" at the Theatrical Centre, militants led by Movsar Baraev took 916 people as hostages. In exchange for the hostages' lives, they demanded an end to the hostilities in Chechnya and withdrawal of federal troops from the republic. The militants' demands were not satisfied; and on October 26, law enforcers launched a liberation operation by using gas. A total of 40 militants and 130 hostages (according to official figures) perished; over 700 others suffered.
Earlier, victims' relatives demanded from authorities to disclose the gas, on whose order it was used during the storming of the building and why the competent evacuation and medical care were not organized for the victims.
This article was originally published on the Russian page of 24/7 Internet agency 'Caucasian Knot' on October 22, 2022 at 02:45 pm MSK. To access the full text of the article, click here.
Source: Caucasian Knot